Enbridge Shakes Debt Woes With $3.3 Billion Sale to Brookfield
(Bloomberg) -- Enbridge Inc.'s efforts to repair its balance sheet and focus on pipelines took a big step forward with the C$4.31 billion ($3.3 billion) sale of its Canadian natural gas gathering and processing businesses to a group led by Brookfield Asset Management Inc.
The deal includes assets that collect gas from drillers in the Montney, Peace River Arch, Horn River and Liard basins in British Columbia and Alberta, Calgary-based Enbridge said Wednesday. The unit has a total operating capacity of 3.3 billion cubic feet of gas a day.
North America's largest pipeline operator has now struck deals for C$7.5 billion in asset sales this year -- blowing past a goal of C$3 billion in divestitures -- helping it whittle down the debt it took on in last year's $28.6 billion purchase of Spectra Energy Corp. The company also has been working to focus on its three core businesses of oil pipelines, gas pipelines and gas utilities.
The sale "significantly advances our strategic priority of moving to a pure-play regulated pipeline and utility business model," Enbridge Chief Executive Officer Al Monaco said in the statement.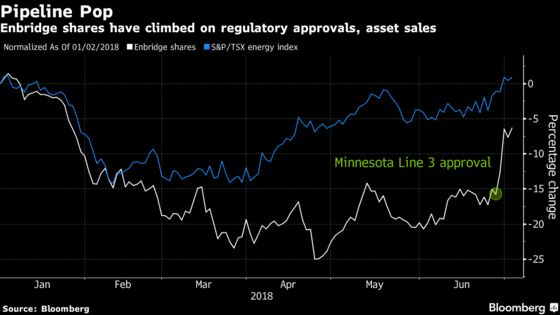 For Brookfield, Canada's largest alternative-asset manager, the purchase through its Brookfield Infrastructure Partners LP unit marks another big step into the business of distributing gas. In 2016, Brookfield led a group of investors that bought a 90 percent stake in a Brazilian network of gas pipelines, storage and processing plants from Petroleo Brasileiro SA for $5.2 billion.
Enbridge rose 1.2 percent to C$46.94 at 9:47 a.m. in Toronto. The stock had slid 5.6 percent this year through Tuesday. Brookfield rose 2.2 percent to C$51.53.
Enbridge earlier this year sold its Midcoast Operating LP gas midstream unit to ArcLight Capital Partners and some renewable-power assets to Canada Pension Plan Investment Board. Enbridge's oil-pipelines business also got good news last week, when Minnesota regulators approved the replacement and expansion of its Line 3 conduit.