It Pays to Be Picky When Looking for Emerging Market Opportunities 
(Bloomberg) -- Investors can't quit emerging markets, but they're becoming a lot more picky.
After the benchmark index for developing-nation stocks entered a bear market this year, some analysts and strategists are recommending buyers avoid the broad-based gauges to focus on specific countries offering the best opportunities. While in the past buying an index and letting it ride produced fat returns, investors now need to be more selective.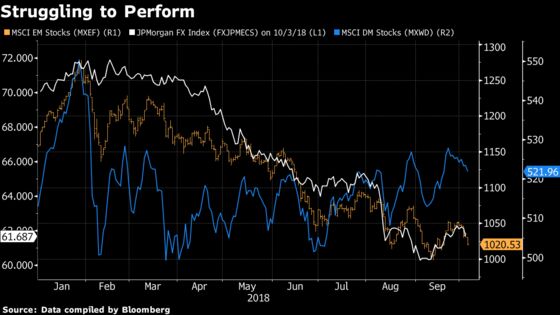 Ardra Belitz, a Lazard Asset Management money manager who leads the emerging-income team, favors countries with predictable, credible policy regimes.
"I continue to find value in Indonesia, as well as Mexico, where policy makers were quick to react to the challenging external backdrop," she said in an email Oct. 3. "Colombia's fiscal and external accounts are supported by higher energy prices, and select frontier countries" are also appealing.
READ: Feel-Good Factor Returns to Emerging Markets, With a Caveat (Sept. 27)
John Normand, a strategist at JPMorgan Chase & Co., recommends going long duration where rates are high or rising, such as Mexico and Indonesia. He favors currencies from countries with large current-account surpluses like Thailand, oil exporters with reduced political risk like Colombia, and those where rates may rise, such as the Czech Republic and Poland.
"The case for regional and country differentiation rather than index investing is building," JPMorgan strategists led by Normand wrote in a note published Sept. 28, citing their projection that the U.S.-China trade conflict would move into an end-game in the first quarter of 2019. JPMorgan doubled down on that call on Oct. 3 when it cut China stocks to neutral from overweight, citing trade-war risks.
Argentina and Turkey are often cited as the two riskiest emerging-market countries at the moment. The peso has lost more than half its value this year, and the lira is down 38 percent, amid concern that central bank policies aren't adequately addressing current-account deficits in both countries.
"Markets still seem to be more selective now and have clearly singled out Argentina and Turkey as the weakest links," ABN Amro economists Arjen van Dijkhuizen and Nora Neuteboom wrote in a note Oct. 3.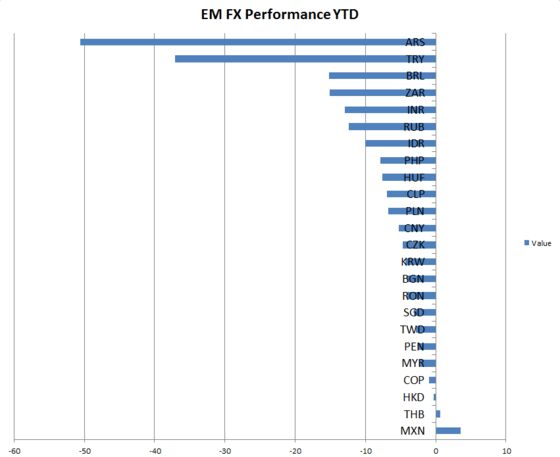 All this means investors may want to pay more attention now than they have in the past, and that simply hopping into an exchange-traded fund or a ready-made basket of assets may not work as well as it sometimes has. The MSCI Emerging Markets Index jumped 34 percent last year, for example.
"So far in 2018, a handful of countries have had an outsized impact on headlines and on sentiment," Lazard's Belitz said. "Country-specific drivers (sanctions in Russia with the risk of more, a loss of confidence in Argentina, political uncertainty in Brazil, tariffs/political risks/high private sector foreign debt rollover ratios in Turkey, etc.) are likely to continue to influence results."