Emerging Asia's Worst-Performing Bonds Are Set for More Losses
(Bloomberg) -- Thai bonds have had a dreadful year so far and things may even get worse.
Government debt from the nation has handed dollar-based investors a loss of 9% in 2021 amid a resurgence in virus cases, and the vulnerability of the securities to expectations for Federal Reserve bond tapering. Reasons for further declines include rising debt supply and front-loaded issuance, while a slow pace of vaccination is likely to weigh on the baht and economic growth.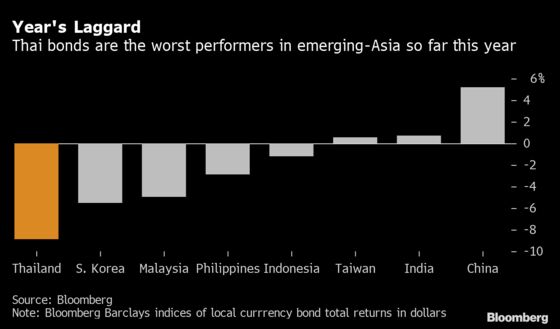 Here is a quick look at each of these in turn.
The government last week announced another round of borrowing, saying it will raise as much as 500 billion baht ($16 billion) to fund additional Covid-19 relief measures. This comes on top of a 1 trillion baht program it announced last year.
As much as 40% of the latest 500 billion baht may be financed through additional sales of government debt, with the remainder via retail savings bonds and bank loans, said Poon Panichpibool, a strategist at Krung Thai Bank Pcl in Bangkok.
The extra debt sales would add around 3% to the 5.89 trillion baht in government bonds already outstanding at the end of May, according to data from the Thai Bond Market Association.
About two-thirds of the latest borrowing package will be used for Covid-19 relief measures and cash handouts rather than direct measures to stimulate growth. Cabinet this week approved spending measures of 140 billion baht that include a cash payout, which will draw upon last year's 1 trillion baht program.
"As the focus of the stimulus is on cash handouts instead of more business-enabling initiatives, the support to growth will be less pronounced, potentially necessitating further stimulus down the road," Krung Thai's Poon said.
Although the government has until September next year to borrow the latest batch of funds, it may turn to the market sooner rather than later.
A sizable proportion of the stimulus package is likely to be front loaded as a larger chunk is allocated for Covid-19 relief measures, and this could result in higher bond issuance in the next two quarters, Nomura Holdings Inc. analysts including Charnon Boonnuch and Euben Paracuelles in Singapore wrote in a note last week.
The resurgence in virus cases in Thailand isn't being helped by slow progress in vaccinations.
Only 1.6% of the population has so far been fully vaccinated, lagging behind even such tardy peers as Malaysia at 3.3% and Indonesia at 4%, according to data compiled by Bloomberg. Bank of Thailand now believes economic growth will only return to pre-Covid levels in the first quarter of 2023, two quarters later than it earlier forecast.
The growing negative sentiment may come into play next week when the government looks to sell a combined 19 billion baht of 10- and 50-year debt.
The most recent sale of 10-year bonds in May drew a bid-to-cover of 2.64 times, above this year's average of 2.34 times. The previous sale of 50-year debt in February had a bid-cover ratio of 2.19. Any result significantly worse than those could be a warning sign.
The past year has been a rocky time for investors in Thai debt -- with the tourist dependent economy particularly vulnerable to the onslaught of Covid-19. The recent worsening of the pandemic in the nation is likely to ensure the poor performance of local bonds is set to continue for some time yet.