Embattled Trump Shifts Focus to Mideast Peace
The Israeli-Palestinian conflict is arguably so intractable that any initiative to solve it should be given a hearing.
Yet even without knowing its contents, President Donald Trump's much-touted but much-delayed Mideast peace plan risks falling flat when it's unveiled in the coming days.
The Palestinians have rejected the peace efforts and refused to talk with the Trump administration after it moved the U.S. embassy to Jerusalem.
Israeli Prime Minister Benjamin Netanyahu and his chief political opponent, Benny Gantz, have been invited to Washington next week. The Palestinians have not.
The plan, which the president's son-in-law Jared Kushner has been preparing since Trump took office, will divert attention from the impeachment trial in the U.S. Senate. It also offers Netanyahu a welcome distraction from his own legal woes as he contests Israel's third election in a year.
The document risks planting a depth charge in the Middle East at a delicate time. Iran is threatening further revenge on the U.S. for the killing of a top general, Iraq is wracked by destabilizing riots and Turkey and Russia are vying to fill the power vacuum left by U.S. disengagement in Syria and elsewhere.
U.S. ally Crown Prince Mohammed Bin Salman is meanwhile accused of spying on Amazon chief Jeff Bezos, a fresh dent to his image in a year that Saudi Arabia is chairing the Group of 20 nations.
An injection of stability would benefit the region. More uncertainty is the last thing it needs.
After three years of waiting, we're about to find out which it will be.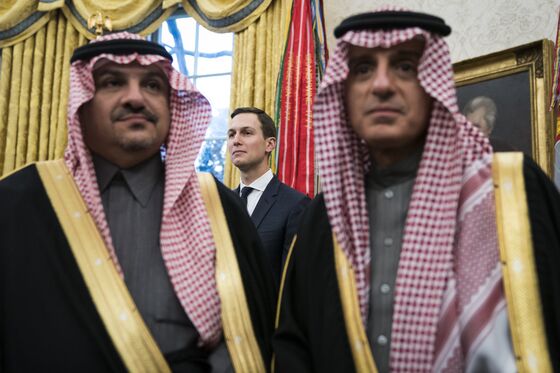 Democratic pressure | U.S. House Democrats have a final day to convince Senate Republicans to vote to subpoena witnesses and documents in Trump's impeachment trial. They're trying to strengthen their case that the president's actions to withhold military aid to Ukraine and block a congressional inquiry violated the Constitution. Representative Jerrold Nadler said yesterday that Trump engaged in unprecedented "stonewalling" of the investigation that "puts even President Nixon to shame."
China outbreak | There's growing anger among China's citizens over the way officials have handled the rapidly spreading coronavirus outbreak that has killed at least 25 people. Even as the world's most populist country tries to lock down entire cities ahead of the busy Lunar New Year travel period, social media users are venting their frustration over whether local officials could have acted faster.
Fascist fears | A nationalist party known for praising Slovakia's World War II fascist state is gaining popularity before elections next month. By toning down its message and tapping into the anger over corruption and inequality that has bolstered far-right movements across Europe, the People's Party may end up holding the balance of power in the country's most unpredictable election since Communism.
Scorned friend | The U.S. has long leaned on Colombia, its staunchest ally in Latin America, as a bulwark against China's effort to boost its influence on the continent by flooding it with cash. But since Trump attacked President Ivan Duque for his failure to curb cocaine trafficking last March, Chinese companies have closed deals worth billions of dollars, exceeding the total investment from the previous 15 years. 
On a roll | Peruvian President Martin Vizcarra has enjoyed high approval ratings since dissolving the legislature and calling early elections to break a stalemate with the opposition-controlled congress last year. If Sunday's voting for its replacement turns out as polls suggest, he'll get a new parliament more willing to push ahead with his agenda of political and judicial reform.
Yemen's government wants to resume direct peace talks with the Iranian-backed Houthi rebels to end a brutal five-year conflict, but military pressure and diplomacy will be needed to get the insurgents back to the negotiating table, the nation's U.S. envoy said.
Commerce Secretary Wilbur Ross said new rules are coming soon that will put more limits on U.S. companies supplying Chinese tech giant Huawei, while the U.K. appears set to reject Trump's call to ban the company from playing any role in its fifth-generation wireless broadband networks.
Norwegian Prime Minister Erna Solberg named one of her top lieutenants, Jan Tore Sanner, as finance minister as her new minority government prepares to navigate a hostile parliament.
A banker with ties to Isabel dos Santos was found hanged in the garage of his apartment building in Lisbon on the same day that Angola's prosecutor named both him and Africa's richest woman as suspects in a probe over alleged mismanagement at state oil company Sonangol.
Pop quiz, readers (no cheating!). In 2018, China halted virtually all imports of what, triggering far-reaching effects right around the globe? Send your answer and tell us how we're doing or what we're missing at balancepower@bloomberg.net.

And finally ... Jakarta may be the first capital to become a victim of climate change. It's sinking at the fastest rate of any major metropolis in the world, with two-fifths of the Indonesian city now below sea level. Climate scientists say 95% of the city could be underwater by 2050. Ironically, the president's site for the new capital is near the heart of what is both one of the country's biggest mining regions and global warming contributor, as Philip Heijmans, Hannah Dormido and Adrian Leung report.