Australian PM's Razor-Thin Majority Is at Risk
(Bloomberg) -- Prime Minister Scott Morrison is facing the first test of his government's popularity at the ballot boxes since he seized Australia's leadership two months ago -- and the signs aren't good.
Polls conducted in the Sydney-based electorate of Wentworth, made vacant after the resignation from parliament of Morrison's predecessor Malcolm Turnbull after he lost the leadership in a party-room coup, point to a huge swing away from the ruling Liberal party.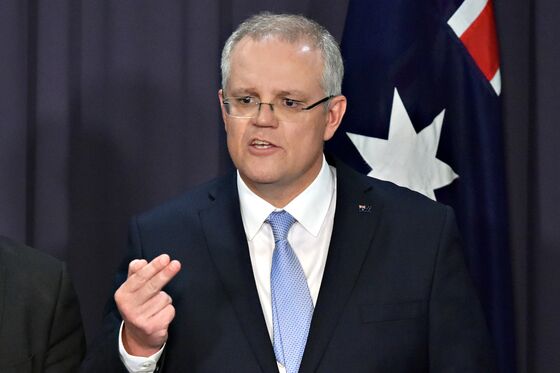 Voters are exasperated by the party's internal turmoil and policy failures. Should the seat fall at Saturday's by-election, the government will lose its razor-thin majority ahead of the nationwide election due by May.
"There's definitely going to be backlash -- it's just the size of the scare it will get that's in doubt," said Mark Rolfe, a political lecturer at the University of New South Wales. "Holding on to the seat will allow nervous Liberals a sigh of relief, but if his government slips into minority it will send a message that it's insecure and potentially fragile."
In normal times, elections in Wentworth would mean a routine victory for Morrison's party, which holds the seat by a 17.7 percent margin. An affluent electorate of about 100,000 voters that includes Sydney harbor coastline and Bondi Beach, it's been held by the Liberal Party and its conservative predecessors since it was created in 1901.
Yet these aren't normal times in Australian politics -- since winning power in 2013, the Liberals have disposed of two sitting prime ministers in Tony Abbott and Turnbull. Morrison's ascension to the top job was the sixth time since 2007 that Australia has changed prime ministers, leaving voters disillusioned with the policy paralysis in key areas including energy security and climate change that's been created in the turmoil.
In a bid to counter the Liberals' lack of gender diversity, Morrison sought to install a female candidate for Wentworth. Instead, party members selected Dave Sharma, a former ambassador to Israel. Polls show Sharma may lose the seat to independent Kerryn Phelps, former leader of the nation's peak medical profession representative body.
Morrison has warned that losing the seat will cause "unnecessary instability" by erasing the government's one-seat majority.
"Waking up to a hung parliament is not something I think the people of Wentworth would want to see," Morrison said on Saturday.
Opposition leader Bill Shorten said the government won't fall, regardless of the Wentworth result, because minor party lawmakers have guaranteed they wouldn't back a vote of no confidence against it.
"Whoever wins Wentworth, Scott Morrison will still be prime minister on Sunday," Shorten said. "I'm not saying I'm happy about that but that is the fact."
Whatever the result, Morrison faces a huge battle in clawing back voter trust and put the Liberal-National coalition in a position to win the next election. While he comfortably leads Shorten in polls as preferred prime minister, major opinion surveys released on Monday showed the government trailing Labor by between 6 and 10 percentage points.
Since becoming leader, Morrison has attempted to distance himself from the previous Turnbull-led government, in which he served as treasurer. In contrast to his predecessor's cerebral, urbane reputation, he's appeared at sporting events wearing baseball caps and rugby jerseys.
Still, policy announcements have been thin. After abandoning Turnbull's signature energy policy, he's announced the government will bring forward planned tax cuts for small businesses, and mooted a possible switch of the nation's embassy in Israel to Jerusalem, emulating U.S. President Donald Trump.
Political analyst Helen Pringle forecasts the Liberals will retain the seat despite obvious voter unhappiness driving a swing away from the party.
"Since becoming leader Morrison seems to have pinned his tactics on boosting his profile and image rather than producing proper, well thought-out policy innovations," said Pringle, from the University of New South Wales. "It will be hard to convince voters he's anything other than a transitional leader."