Embattled Fund Manager GAM Gets New Headache From Bank Bonds
(Bloomberg) -- GAM Holding AG, the Swiss asset manager struggling to retain clients after losing a star fund manager and liquidating his funds, has another problem.
Its second-biggest fixed-income strategy is among the world's worst performing this year, with the $8.2 billion GAM Star Credit Opportunities funds down as much as 11 percent. The three funds, which focus on subordinated financial-sector bonds, have underperformed their benchmarks and rival funds run by Pacific Investment Management Co., Algebris Investments and Edmond de Rothschild, according to data compiled by Bloomberg.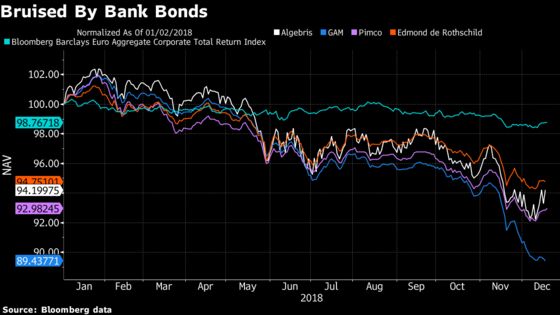 The funds, GAM's biggest after those being liquidated, have also lost about a third of their assets this year, according to filings. It's another sign of stress for the Zurich-based investment company, which said on Dec. 13 it will post a shortfall of 925 million francs ($935 million) for the year after massive outflows forced it to write down the value of its business.
"This year has been challenging," a spokeswoman said in an emailed statement. But the fund's value over the mid- to longer-term "is intact," she said. "We expect a sharp price recovery over the next 6 to 9 months."
The fund invests in "highly liquid securities from strong issuers" and "flows have had no impact on the positioning of the fund, both from a credit as well as a liquidity standpoint," she said. The subordinated financial strategy "significantly outperformed over three and five years," she said.
The euro-denominated fund's benchmark, the Bloomberg Barclays Euro Aggregate Corporate Total Return Index, is down 1.3 percent this year, compared with annualized 2.6 percent returns over the past five years. The other two funds are in dollars and sterling.
Subordinated financial bonds have fallen out of favor this year amid a broader selloff in risky assets and the increasing risk that additional Tier 1 notes won't be bought back and refinanced at the first opportunity.
Some of the worst-performing bonds held by GAM's euro fund were Deutsche Bank AG's and Banco Santander SA's AT1s, which are first in line for losses if the banks run into trouble. Both fell to about 80 percent of face value from above par, according to data compiled by Bloomberg.
GAM has cut its position in Deutsche Bank's 6 percent AT1s to below 100 million euros from 134.6 million euros in the first quarter, according to Gregoire Mivelaz at Atlanticomnium SA, a Geneva-based asset manager that oversees GAM's three funds.
GAM's new management team said last week it had struggled to retain clients amid choppy markets, with assets under management falling by 7 billion francs since the end of September to 139 billion francs. The listed firm's shares fell as much as 3.2 percent on Thursday, taking this year's slide to 79 percent.
GAM's biggest fixed-income strategy was managed by Tim Haywood, whose funds are being liquidated after he was suspended in July on misconduct allegations. Its third biggest, an $8 billion emerging-markets fund, has also seen outflows and manager Paul McNamara said in an October interview that he'd been spending more time reassuring clients about compliance.
"It's been a challenging year in terms of performance," said Mivelaz at Atlanticomnium. Investor withdrawals are the result of "tactical de-risking across the board," and "nothing to do with headlines" about GAM and Haywood, he said.