Elliott Revives Push to Overhaul Hyundai Motor, Letter Shows
(Bloomberg) -- Elliott Management Corp., the activist fund that forced Hyundai Motor Group to scrap an $8.4 billion deal this year, is resuming its push for changes at the South Korean automotive giant.
In a letter to Hyundai, billionaire Paul Singer's fund called for the merger of some key units to bolster shareholder value and improve the group's structure. One option would be for car-parts maker Hyundai Mobis Co. to sell its after-sale service business to affiliate Hyundai Motor Co., and then merge what's left of Mobis with logistics affiliate Hyundai Glovis Co., according to the Aug. 14 letter seen by Bloomberg News.
Logistics affiliate Hyundai Glovis rose 5.1 percent Friday as of the close in Seoul. Parts maker Hyundai Mobis added 2.4 percent, while Kia Motors Corp. advanced 1.8 percent. Hyundai Motor fell 0.8 percent, after gaining earlier. The benchmark Kospi index fell 0.3 percent.
In the letter, Elliott invited Hyundai to discuss the proposals. The Korean company subsequently declined, citing possible breaches of local rules, people familiar with the matter said, asking not be identified. A representative for Elliott declined to comment on the letter.
Hyundai Motor Group declined to comment on the letter or whether it rejected Elliott's request for discussions. "While our current focus and strategic priorities are on improving operations across the company, we hope to share our thoughts on how to improve shareholder value with all of our shareholders in due course," the company said in a statement.
The proposed mergers would involve companies with a combined market value of more than $60 billion as of Friday's close in Seoul. They are the latest attempt by the tenacious hedge fund, which has battled against countries and campaigned to reform big businesses such as Samsung, to spur changes at a group whose units trade at discounts relative to most other peers in the global auto industry.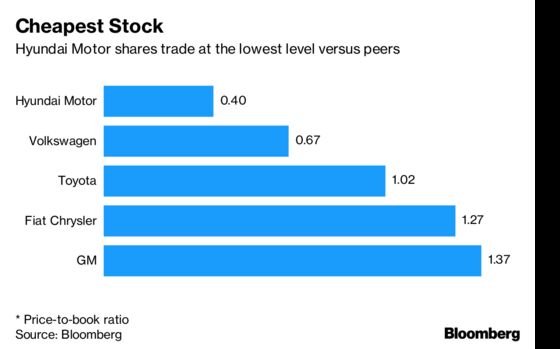 It also comes as Hyundai seeks to figure out how to overhaul the group so that heir-apparent Euisun Chung can take control of the business empire from his 80-year-old father in a country with some of the highest inheritance taxes in the world.
Elliott's funds manage about $35 billion in assets, including shares in Hyundai Motor Co., Kia and Mobis. Elliott owned about 3 percent of Hyundai Motor Co., 2.1 percent of Kia Motors and 2.6 percent in Hyundai Mobis as of Aug. 13, according to letters Elliott posted on its campaign website on Friday, after Bloomberg reported the letter a day earlier.
Summary of Elliott's Latest Proposal
Break up Mobis. Merge the after-sales business with Hyundai Motor Co. Then merge Mobis's remaining module and core-parts businesses with Glovis.
Merged Mobis-Glovis entity buys shares of new post-merger Hyundai Motor Co. from Kia Motors Corp. and Hyundai's Chung founding family
Founding family buys shares in merged Mobis-Glovis
Set up restructuring review committee to come up with restructuring plan for the group
Hyundai Motor Co. to return excess cash to shareholders via interim or quarterly dividends
Diversify and enhance independence of boards at Hyundai Motor Co. and its affiliates with directors that have exemplary international backgrounds
Source: Elliott's Aug. 14 letter to Hyundai
Under Elliott's proposal, the merged Mobis-Glovis entity could sit atop the group's hierarchy and own a controlling stake in Hyundai Motor Co., the biggest unit in a group that has dozens of subsidiaries generating total revenue of more than $85 billion a year.
The point of the proposed changes would be to maximize shareholder value and establish a structure that would best support the group's long-term strategies, Elliott said in the letter. It would also help the group sever circular shareholdings, address concerns surrounding transactions between affiliates and maximize efficiency from a corporate governance perspective, according to the letter.
Hyundai Motor Group "has yet to take any substantive steps to address the concerns that continue to burden HMG and its share value," Elliott said in the letter. "We express our concern as to the board's failure to communicate to shareholders its business and corporate restructuring plans."
Elliott also proposed that Hyundai form a committee to develop a restructuring plan that would be in the best interest of the group and its shareholders. It said the committee "could and should invite shareholders, stakeholders and professionals to share ideas and contribute experience and expertise," adding that it would like to join the discussions.
In its statement, Hyundai Motor Group said it can't share confidential information about itself selectively to some investors.
"We are not able to create a separate committee that would allow only select shareholders to take part in establishing fundamental management decisions," the Korean group said.
Elliott knows Hyundai well. Earlier this year, it launched a public campaign opposing a controversial merger of some of its units that Elliott said would have shortchanged minority shareholders. Elliott made a counter-proposal, which Hyundai rejected. The Korean conglomerate ultimately scrapped its own controversial plan and vowed to improve its communication with investors.
The fund's ability to pressure Hyundai into canceling its plans was seen as a milestone victory for shareholder activists, who have historically failed to sway the nation's family-run conglomerates -- known locally as the chaebol -- through shareholder votes. Now, some investors are mimicking Elliott's tactics to push for changes at local firms such as in the case of Seoul-based Platform Partners Asset Management's campaign against Macquarie Korea Infrastructure Fund.
Hyundai isn't the only chaebol that Elliott has gone up against. In 2015, it took on the biggest one -- Samsung Group -- in a proxy fight. Elliott lost but Samsung's de-facto leader ended up going to jail after he was convicted of bribing Korea's then president in connection with the controversial vote. Lee has denied any legal wrongdoing and is appealing his conviction. The former president, Park Geun-hye, was impeached and is behind bars.
For Hyundai, Elliott's latest proposal comes at a time the group is seeking to win over investors ahead of its own revised overhaul plans, which haven't been announced. At less than 40 percent of their book value, shares of the group's largest unit -- Hyundai Motor -- trade at one of the lowest levels in the automotive industry, according to data compiled by Bloomberg.
Elliott has active campaigns at several companies around the globe, including consumer research giant Nielsen Holdings Plc and California utility owner Sempra Energy. Elliott also took control of the board of Telecom Italia SpA in May after a high-profile fight with Vivendi SA.