Elliott Is Said to Purchase Stake in Germany's Thyssenkrupp
(Bloomberg) -- Elliott Management Corp. is building a stake in German engineering giant Thyssenkrupp AG and would like to replace the company's Chief Executive Officer Heinrich Hiesinger, according to people familiar with the matter.
In line with its usual strategy, the fund, led by activist investor Paul Singer, may cross the threshold of 3 or 5 percent in the coming weeks, hurdles at which investors have to reveal their position, the people said, asking not to be identified because the information is private. The shares rallied as much as 8.5 percent in German trading, the biggest intraday gain since 2016.
Elliott's presence at Thyssenkrupp would add pressure for a radical overhaul of the company, which has already faced criticism from Cevian Capital, the second-largest investor, for its complicated business structure spanning submarines and elevators. Since Hiesinger took the helm in January 2011, Thyssenkrupp shares have lost about 30 percent.
"Great timing in our view for Elliott to step in, suggesting both that the upside potential to the share price is attractive and that existing activist Cevian should get some assistance," Christian Georges, an analyst at Societe Generale SA, wrote in a note.
He added that many investors have "voiced exasperation at the seemingly endless restructuring" under Hiesinger's leadership.
Elliott doesn't believe Hiesinger can lead a turnaround at Thyssenkrupp and plans to re-evaluate the company's top management and its planned multi-billion steel joint venture with Tata.
A major gripe among shareholders is Thyssenkrupp's deal to merge its European steel business with Tata Steel Ltd., a cornerstone of Hiesinger's turnaround plan. It's been two years since the two companies started informal talks for the deal, which could be potentially worth 15 billion euros ($17.7 billion), but they have yet to formally sign an agreement.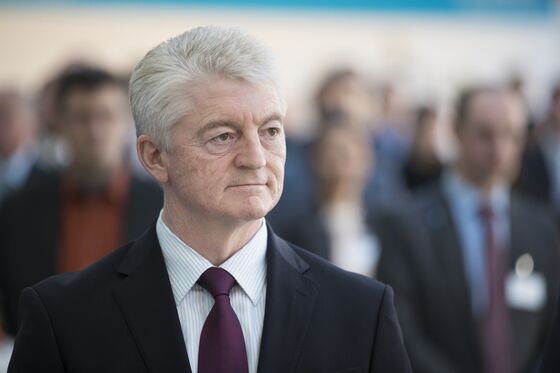 Cevian has also said Thyssenkrupp needs to untangle its sprawling operations and cut ballooning costs at its corporate center. The fund is critical of Thyssenkrupp's management and believes that creating a holding structure or potential listings or spinoffs could be beneficial, according to people familiar with the matter.
Jens Tischendorf, Cevian's representative on the supervisory board, called on fellow board members in a recent letter to analyze the benefits of the steel deal with Tata because of lingering obstacles, people familiar with the matter said.
Spokespeople for Thyssenkrupp, Elliott and Cevian declined to comment.
Adding to Hiesinger's challenges are Thyssenkrupp's labor representatives, who also have raised concerns about the company's performance and risks related to the joint venture with Tata.
The key issues around the deal are privileges granted to Tata's Dutch plant in Ijmuiden and potential environmental risks at a coke oven of its Port Talbot plant in Wales, people familiar with the matter said.
According to an internal plan, the German company intends to sign the Tata deal by mid-June, some people familiar with the process said. While Tata said last week it plans to sign an agreement by the end of June, representatives at the Dutch plant said they're skeptical about the deadline and think it could take two or three more months from now.
Thyssenkrupp's supervisory board, which consists of shareholder and labor representatives, has not yet given its blessing for the deal.