NYC Prep School Debt Boom Leaves Italian Academy in Crisis
(Bloomberg) -- Steve Acunto, the chairman of La Scuola d'Italia, a bilingual English-Italian private school in Manhattan, stood on a dais at its annual gala in March 2016 and pointed to an 8-foot model of the school's new 11-story home near Columbus Circle.
The building on West 58th Street would have a nursery school, theater, gymnasium, specialized science facilities and enough space for 680 students, more than twice its enrollment at the time. "We're going to become the absolute best institution of its type in the world," Acunto told a reporter.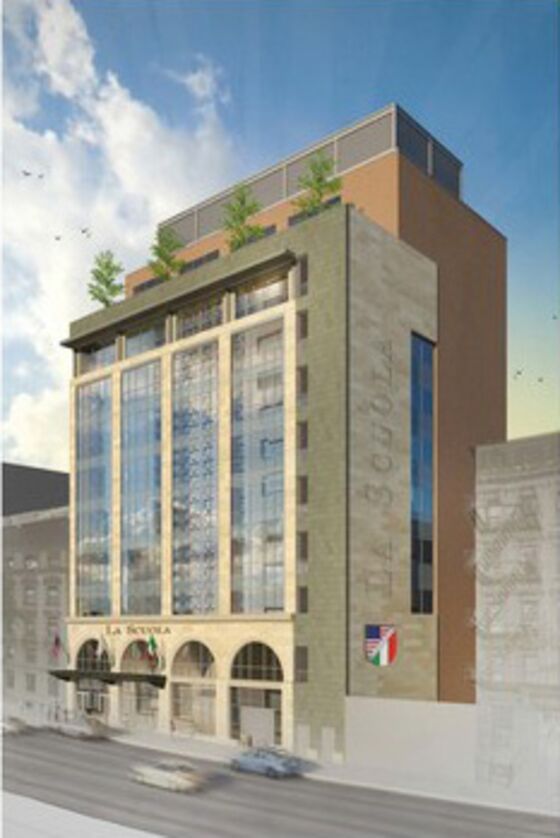 Less than two years later, La Scuola d'Italia defaulted on the $80 million of debt it took out to purchase and renovate the building and handed over the keys to Rosemawr Management LLC, a municipal bond investment firm that lent the school the money. The school then sued the investment bank and law firm that worked on the bond issue for fraud -- setting off a legal battle that's continuing in New York Supreme Court over who's to blame.
The saga has turned the academy founded by the Italian Ministry of Foreign Affairs four decades ago into a cautionary tale about the debt-fueled contest among New York prep schools that compete for the children of the elite. It's among several that raised money in the $3.9 trillion municipal-bond market for renovations or new construction, including the Riverdale Country School and the Ethical Culture Fieldston School.
But after La Scuola's project collapsed, enrollment tumbled. In January 2018, La Scuola sued Gates Capital Corp., the placement agent on the 2015 bond issue, as well as Epstein Becker & Green, the law firm that represented the school on the deal. La Scuola alleges the firms and former trustees Acunto and Carlo Mantica steered La Scuola into a risky financing that cost it more than $27 million and led to the student exodus.
The school claims Gates had a conflict of interest by representing itself as both a financial adviser and placement agent and failed to notify the board that it would be in default if it missed construction deadlines. The firm also arranged a loan "premised on unsupported financial assumptions" with interest rates two to three percentage points more than initially proposed, the complaint said.
Gates faults missteps by the school's management and dismisses the claims, saying numerous documents, including an engagement letter and bond purchase agreement, show it was hired solely as a placement agent in an arm's-length relationship, not a financial adviser that had a fiduciary duty.
"It would appear to us that a series of post-closing setbacks unrelated to Gates' role as placement agent led the school to elect to abandon the expansion," Gates Chief Executive Officer Thomas Sulger said in an email.
Charles Adams, a partner at Clifford Chance and chairman of the school's board of trustees, didn't respond to an email seeking comment. The school's attorney George Sitaras, declined to comment. Mantica didn't immediately respond to a request for comment. Chris Oprison, an attorney for Acunto, called the suit frivolous and said Acunto acted in good faith, in the best interest of the school and with the full consent of the board.
In a court filing late Friday, Epstein Becker & Green denied the allegations, adding the school failed to follow through on plans for a capital campaign and to increase enrollment and tuition. The expansion failed because of the board's inattention and dysfunctional project management.
Acunto and Mantica's plan to buy the building caused controversy on the school's board, which included Jason DeSena Trennert, managing partner and founder of Strategas Research Partners, a Wall Street investment research firm, who served as Treasurer.
"If you ask anybody on the board who bought the building, what was the cost of the building, how much did it cost to restore it? At the time nobody knew. Something as simple as business plan wasn't there," said Fabrizio Ferri, a former La Scuola board member and finance committee member who resigned along with two other committee members and Trennert after their concerns were overridden.
Trennert declined to comment.
Instead of hiring an independent construction consultant to advise the board and soliciting bids from contractors, Acunto and Mantica hired a contractor, Colosseo Development Group, owned by Rocco Sebastiani, whose children attended the school and who had pledged a $5 million in-kind donation to the project. Just days after executing a contract with Colosseo in September 2015, Gates placed about $80 million of bonds with Rosemawr, a private debt investment firm that focuses on the municipal market.
Rosemawr purchased $75.5 million of non-rated bonds in two series, yielding 7 percent and 7.24 percent, as well as $2 million taxable bonds yielding 8.5 percent. Gates had estimated in April 2015 it could obtain $65 million in financing for the school at 4 percent to 5 percent interest rates.
In September 2016, La Scuola defaulted on a requirement in the loan agreement to get a certificate of occupancy for the new building by the start of that month. The school alleged that Acunto and Mantica, who didn't have any experience with commercial construction, were "inept" in their oversight of the project.
Sebastiani didn't return a call seeking comment. A man identifying himself as Sam Cohen and representing himself as a manager at Colosseo said the contractor "left behind a lot of money" on the project. Neither Colosseo nor Sebastiani were sued by the school.
During construction, enrollment at La Scuola dropped, crimping revenue. La Scuola says the exodus resulted from parents' loss of faith in the board and Gates' financial advice.
In February 2017, Rosemawr notified the school it was requiring repayment of the loan because of defaults. In June, Rosemawr moved to foreclose on the project, which was about 50 percent complete, according to the complaint. Greg Shlionsky, Rosemawr's founder, declined to comment.
La Scuola turned over the keys to the new building to Rosemawr in November 2017 in exchange for reducing the debt to $19.7 million, including a $4.4 million note due to Colosseo, secured by the school's 96th street townhouse. Rosemawr sold the 58th Street building to Mount Sinai Medical Center in April for $71.5 million.