Electronic Arts Plunges After Latest Battlefield Game Flops
(Bloomberg) -- Electronic Arts Inc. plummeted as much as 19 percent after its latest Battlefield title flopped and competition from rival video games like Fortnite contributed to a "difficult quarter."
The first-person shooter game, which was released in November, faced heavy competition during the holiday season. Fortnite and Red Dead Redemption 2 in particular vied for customers' attention, Chief Financial Officer Blake Jorgensen said in an interview.
"It's always a battle, for time more than a battle for money," he said.
Adjusted revenue for the quarter ending in March will be $1.17 billion, EA said on Tuesday, compared with the $1.47 billion average of analysts' estimates. Last quarter's sales and earnings also fell short of Wall Street estimates.
Upgrades to the Battlefield game are coming, including a Fortnite-style battle-royale mode, but they won't come in time to save the current quarter.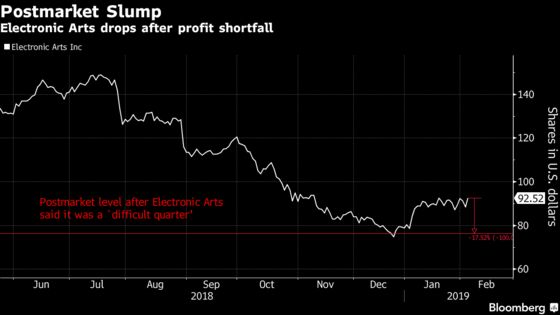 It's no secret that the industry is going through a period of upheaval as gamers forgo console games and embrace battle-royale titles like Fortnite. But the pace of decline in EA's packaged goods was still eye-opening, with net revenue down 15 percent to $1.55 billion in the 12 months that ended in December.
EA shares fell as low as $74.71 in late trading after the results were released. The stock had gained 17 percent this year.
The holiday season is a critical period for video-game makers, and investors are eagerly awaiting how other companies fared. Take-Two Interactive Software Inc., the maker of Grand Theft Auto, reports its earnings Wednesday morning.