Electrolux Soars on Sweeping Factory Overhaul, Spinoff Plan
(Bloomberg) -- Electrolux AB shares jumped after the Swedish appliance maker unveiled a sweeping production revamp in the Americas and a plan to spin off a division in response to the triple blows of changing U.S. trade policy, soaring raw material costs and the collapse of retailer Sears.
The Stockholm-based maker of refrigerators, stoves and other household goods will close a new plant in Memphis, Tennessee, and move refrigeration equipment out of a factory in Santiago, Chile as part of a more than 1 billion krona ($111 million) manufacturing redesign.
Investors cheered the changes, along with better-than-expected earnings, sending shares soaring as much as 11 percent, the biggest intraday advance in almost four years.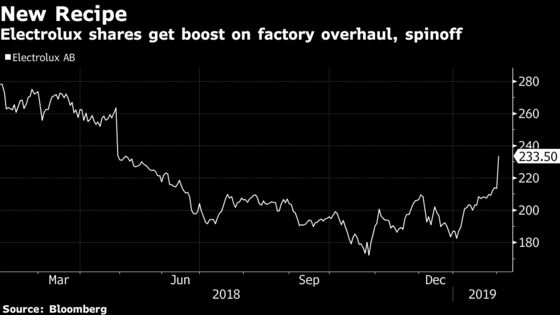 The overhaul will also include the Stockholm listing of Electrolux Professional, which makes food-service, beverage and laundry equipment for restaurants and hotels, during the first half of 2020. The company has a long history of carving out companies, including Autoliv Inc. and gardening-tool maker Husqvarna AB. and the latest one "is another high-quality asset," according to DNB analyst Christer Magnergard.
The move "will further sharpen focus," Electrolux's biggest shareholder, Investor AB, said in a statement.
The Swedish company has been buffeted by President Donald Trump's tariffs on steel and aluminum, which raised raw-materials prices on U.S.-made goods and forced a delay in plans for a $250 million expansion of another plant in the country last year. New tariffs have also raised prices on both components and finished goods that Electrolux brings into the U.S. from China. North America accounts for about one-third of sales.
Closing the Memphis plant is a blow after the company touted it as a state-of-the-art facility that would employ 1,200 people. While the factory officially opened in January 2014, ramp-up of production proved slower than expected. Throughout 2016, Electrolux said it was working to get the factory's production costs down. At the end of 2017, the plant employed 800 people, according to the Memphis Business Journal.
The overhaul will have a cash-flow impact of about 300 million kronor, Electrolux said. The company expects the effects of higher raw material prices, trade tariffs and currency exchange moves to have a negative impact on earnings of as much as 2.4 billion kronor this year, lower than a previous guidance of 3 billion kronor. In a bid to offset the effects, Electrolux plans to raise prices on its products, which include appliances under the AEG and Frigidaire brands.
While higher costs have cut into sales and profit, the company has separately been contending with the bankruptcy of white-label customer Sears Holdings Corp., whose Kenmore-branded products make up 10 percent of Electrolux's North American sales of large appliances. The retailer is undergoing a restructuring under Chapter 11, putting those volumes at risk.
Electrolux's fourth-quarter earnings showed that it hasn't been fully able to offset the negative impact of higher costs, even though sales grew by 2.5 percent from the year before.
Adjusted operating profit was 1.89 billion kronor, compared with an average analyst estimate of 1.79 billion kronor.
Net sales of 34.43 billion were 2.4 percent above the average analyst estimate.
The company expects a 2 billion to 2.4 billion negative impact from raw materials, tariffs and currency moves this year
CEO Jonas Samuelson says he's pleased with the performance in 2018 in the face of challenging conditions