Election Pledges to Lift Economy Boost South African Confidence
(Bloomberg) -- South African political parties' election-campaign promises to boost economic growth and create jobs helped to boost business confidence in April.
An index measuring sentiment rose to 93.7 from a seven-month low of 91.8 in March, the South African Chamber of Commerce and Industry said Tuesday in an emailed statement. The median estimate of three economists in a Bloomberg survey was 91.7.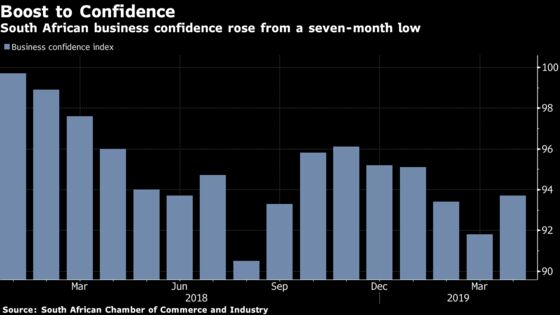 With national and provincial elections taking place on Wednesday, campaigning by political parties reached a peak in April. A common theme in manifestos of prioritizing growth and jobs in a country with a 27 percent unemployment rate resonated with markets, the chamber said.
Higher spending on printing and advertising because of the election campaigns "may lull one to a false sense of comfort about business confidence," Sacci said.
After some of the country's worst power cuts yet in March, blackouts stopped in April, helping businesses that had struggled with irregular electricity supply and further boosting sentiment.
The increase in confidence in April may be temporary because the election will create an unpredictable economic environment for the next month or two, even as the ruling African National Congress looks set to retain its majority, Sacci said. Ultimately, the outcome of the vote will bring more clarity to business and ensure better planning and and decision-making, it said.
Why Ramaphosa Need Decisive Win in South Africa Vote: QuickTake
South Africa Inc.'s Tips for the President to Spur Economy
Victory Margin Key as Stock Traders Ready for S. Africa Vote