Election Drubbing Shows Challenge Ahead for Australia's Morrison
(Bloomberg) -- The magnitude of Australian Prime Minister Scott Morrison's challenge to win re-election has been laid bare, after his Liberal-National coalition slipped further behind in a key opinion poll and was trounced in a state ballot at the weekend.
The government now trails the main opposition Labor party by 10 percentage points, according to a Newspoll published Monday in the Australian newspaper. Should that be replicated in national elections expected in May, the coalition would lose about 20 seats and Labor leader Bill Shorten would become prime minister after five years in opposition.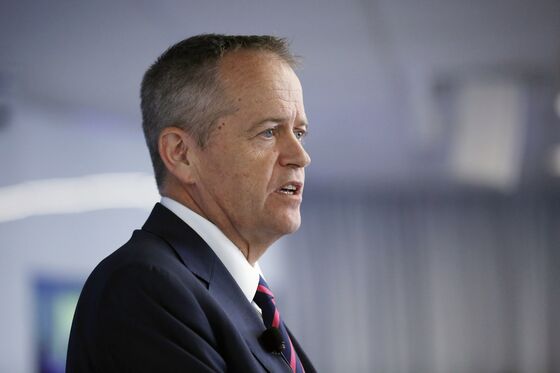 In another blow to Morrison, a landslide victory in the state of Victoria on Saturday saw Labor retain power with an increased majority. While state elections are predominantly fought on local issues, the result is a boon for Shorten and shows Labor's commitments to increase health and education spending and boost energy generation from renewable sources is resonating with voters.
"The message I have taken from Victoria is a positive one: stick to the policies, stick to looking after the people, stay united and stable like we have for over five years, and people will reward you," Shorten, 51, said in a Sky News interview on Monday.
Morrison, 50, hasn't commented publicly on the result in Australia's second-largest state, where Labor looks set to win about 60 of the 88 seats in Victoria's lower house, up from 45.
During the state campaign, the coalition focused on combating crime and terrorism -- a key policy platform nationally for Morrison, who wants to pass laws in the next two weeks to allow authorities access to encrypted data to help counter extremist attacks.
Morrison potentially has an ace up his sleeve -- the economy is expanding at its fastest annual rate since 2012, and the unemployment rate is at a more than six-year low. Deloitte Access Economics said in a report released Monday that government revenues will increase by an extra A$9.2 billion ($6.7 billion) this fiscal year.
That could allow Morrison to announce pre-election sweeteners for voters in a budget early next year.