Largest Health IPO Since Zoetis Wavers Before Street Check
(Bloomberg) -- The sell side is about to kick off coverage for the largest new listing in the health-care sector since the 2013 debut of Pfizer's animal health spinoff, Zoetis Inc. Investors can expect coverage on Monday for another animal medicine maker, Eli Lilly & Co.'s 80 percent-owned Elanco Animal Health Inc.
Elanco shares tumbled 5.1 percent this week, lagging the S&P 500 loss of 4.1 percent.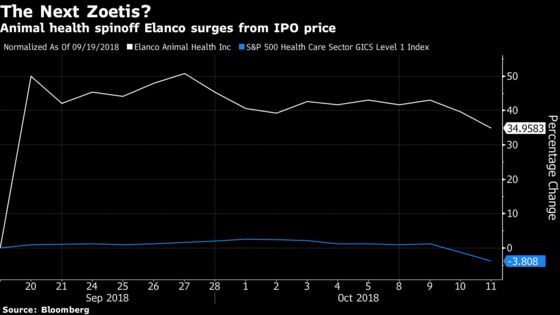 Investors are waiting to find out if Wall Street analysts will predict still greater returns for Elanco, which has already rallied 36 percent since its Sept. 20 debut. A quiet period that ends Monday allows banks which underwrote the IPO, including Goldman Sachs, JPMorgan Chase and Morgan Stanley, to start coverage. Other underwriters included BNP Paribas, Bank of America Merrill Lynch, Barclays Capital, Citigroup, Cowen & Co, Credit Suisse, Deutsche Bank and Evercore.
Analysts at underwriting banks often start their coverage in benevolent terms, but friendly research may face pushback if it predicts Zoetis-sized returns for Elanco. For its part, Zoetis has more than tripled from its original $26 IPO price.
Sell-side firms not involved in the listing process have already said that Elanco might not offer quite the same promise as Zoetis. Craig-Hallum analyst Kevin Ellich launched his coverage today with a hold and a 12-month price target of $33. Investors have jumped in early, driven by FOMO or "fear of missing out" on the next Zoetis, he told Bloomberg News in a phone interview. He expects the company to trade sideways over the next year after Elanco's premium surpassed that of Zoetis's shares.
Today's valuation already includes the margin expansion opportunity for Elanco which is targeting 60 percent gross margins by 2023. With Zoetis margins already at 68 percent, the premium to Zoetis is "hard to justify," Ellich said. Still, if shares sell off, he sees a good chance to jump in, especially as Lilly continues to unwind its stake.
Gabelli's Kevin Kedra, who first rated the company a buy last month, said he did not expect Elanco to follow in Zoetis's footsteps over the next five years. Instead he predicted the animal health company may be worth $48 a share by 2023. Ellich did not want to predict so far out into the future but he noted Zoetis also traded sideways for its first 12 months as a public company.
Elanco's IPO raised more than $1.7 billion in gross proceeds, while the Zoetis listing raised $2.2 billion.