Egypt Sees Weaker Pound This Fiscal Year, Is Bullish on Growth
(Bloomberg) -- Egypt cut its forecast for the pound's value against the dollar and projected higher interest costs on local government debt for fiscal 2018-19, even as its expectations for economic growth and debt reduction remained on target.
In a mid-year report, the Finance Ministry forecast:
The currency will weaken to 18 pounds to the U.S. dollar versus earlier projection of 17.25 pounds
Yields on Treasury bills and bonds will rise to 18.6 percent from earlier projection of 14.7 percent
Oil prices will average $74 per barrel in fiscal 2018-19 compared to $64 per barrel the previous year
The new pound target is roughly in line with current levels. The currency has strengthened slightly since the start of the year and is trading for about 17.62 to the dollar. Yields, meantime, have been declining slightly in recent auctions, with officials saying that foreigners have been stepping back into the market after a steep sell-off last year.
The projections come as the government pushes ahead with a sweeping economic program aimed at boosting growth and cutting costs while working to ensure that the efforts don't hurt the most vulnerable segment of a population of around 100 million.
The International Monetary Fund, which approved a $12 billion loan to Egypt in 2016 after the government launched the program, has lauded the efforts. But it's also stressed the government must also work to contain inflation, boost exchange-rate flexibility and reduce public debt.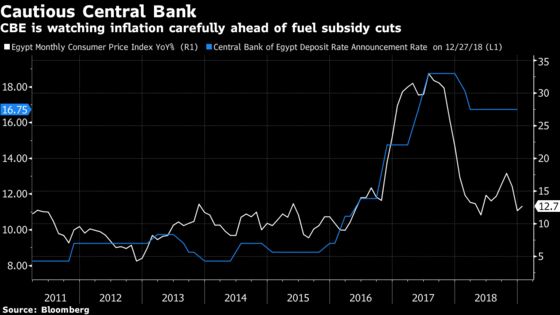 Inflation, in particular, could be a challenge as the government lifts the remaining fuel subsides by the end of the current fiscal year in June and later implements the fuel-price indexing mechanism.
Annual urban inflation in January accelerated to 12.7 percent compared to 12 percent the previous month, largely driven by a jump in food prices, seasonal factors such as the Coptic Christmas.
The lifting of fuel subsidies could push the annual rate to around 12-14 percent in the coming months, said independent economist Reham El Desoki. The size of the increase depends "on the magnitude of the price increments in energy product prices and the indexation mechanism implementation and their effect on private consumption," El Desoki said.
The government plans on cutting the budget deficit to 8.4 percent of gross domestic product in fiscal 2018-19 from 9.7 percent the preceding year. Cost-cutting measures, along with a push to bolster tax revenue and money from other sources, is expected to further trim that deficit to 7.1 percent in 2019-20, 5.8 percent in 2020-21 and 4 percent in 2021-22.