Egypt's Top Stock Set to Renew Gains as Refinery Boost Nears
(Bloomberg) -- The best-performing stock in Egypt this year might be about to reward investors even more as a turnaround plan moves forward and the company completes a long-awaited project.
Qalaa Holdings SAE, the Egyptian investment firm formerly known as Citadel Capital, is pushing to end annual losses by selling underperforming assets and lowering debt before its flagship oil refinery venture in Cairo comes to life next year, co-founder and Managing Director Hisham El-Khazindar said.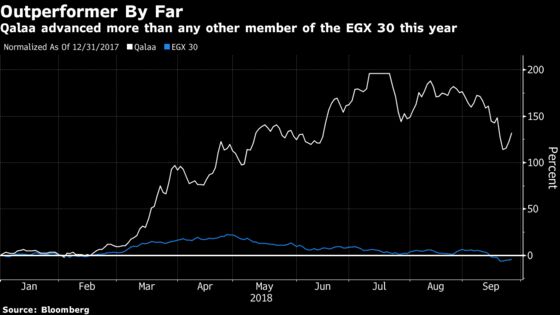 Qalaa has operations in industries including energy, cement and logistics, and has been selling businesses to focus on more profitable assets. Bogged down by impairments and write-offs, it's posted losses every year but one since going public in 2008.
Still, the stock has surged 139 percent in 2018, versus a drop of 2.6 percent for Egypt's benchmark EGX 30 index, even after losing one-fifth of its value following a regulatory dispute in July that the investment firm has partly resolved. Three analysts surveyed by Bloomberg recommend buying Qalaa stock, with an average return potential of 37 percent in the next 12 months.
The current year is seen as a turnaround period, and "in 2019 we expect Qalaa to be back to sustained bottom-line profitability," El-Khazindar said in an interview in London earlier this month. "We are at this inflection point, with the wind in our back. Building on the momentum of reforms taking place in Egypt, we are now starting to reap the benefits of these big bets that we have made through our investments."
The $4.3 billion Egyptian Refining Co. construction project is almost finished and the plant is scheduled to begin production in early 2019, reaching full capacity later that year, according to El-Khazindar. ERC, in which Qalaa holds a 17 percent stake, is designed to produce 4.7 million metric tons of refined oil products and derivatives annually, primarily Euro 5 diesel, which will give it a key role in replacing about half of Egypt's imports of the fuel, he said.
The facility "needs to start production as soon as possible" to enable Qalaa to meet debt commitments, Karim Ezzat, a senior equity analyst at Pharos Securities Brokerage, said by phone. "The market is betting on ERC," which represents about 43 percent of Pharos's valuation of Qalaa, he said.
Qalaa is working to cut consolidated debt, excluding figures from ERC, to a targeted 7 billion Egyptian pounds ($390 million) by the end of 2018 from 11 billion pounds in 2015, El-Khazindar said. He expects to sell some cement businesses within a year.
The company posted a second-quarter profit of about 487 million pounds compared with a loss of about 2.8 billion pounds a year earlier. Revenue climbed 39 percent to 3.1 billion pounds. The gains came on the back of the "deconsolidation" of operational liabilities of Africa Railways.
Qalaa is seeking growth in subsidiaries either through new projects and investments or through selective mergers and acquisitions; it doesn't intend to diversify again into new sectors
The company continues to look at an IPO of energy distributor Taqa as well as of Arab Refining Co., a venture that includes its ERC stake, once the refinery has had "a couple of quarters of normalized earnings" after reaching full operating capacity
The company has been discussing an increase in its shareholding in ERC, and will provide an update on any plans at the beginning of 2019