Egypt's Inflation Stays on Target After Monthly Price Plunge
(Bloomberg) -- Egypt's inflation stayed within the central bank's target range for a second month after the biggest monthly decline in at least over a decade.
Consumer prices in urban parts of Egypt slipped 3.4 percent in December from November, according to data released Thursday by the state statistics agency, CAPMAS. The annual rate slowed to 12 percent in December, compared with 15.7 percent the previous month and below the ceiling of the central bank's goal of 13 percent, plus or minus 3 percentage points.
While surging prices for vegetables in the third quarter got in the way of efforts to slow inflation, an increase in their supply by the government is now helping keep cost pressures in check. Egypt experienced a "temporary, seasonal shock in food prices that was bound to fade away," said Mohamed Abu Basha, head of macro analysis at Cairo-based EFG-Hermes investment bank.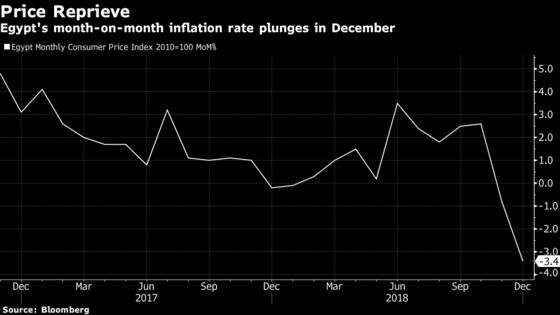 The cost of food and beverages, which comprise the largest single component of the consumer-price basket, declined 6.7 percent in December from the previous month. Core inflation, which strips out regulated and volatile items, came in at an annual 8.3 percent, a slight increase from November.
The central bank's Monetary Policy Committee, which left borrowing costs unchanged in December, said after last month's meeting that "exogenous factors that are outside the scope of monetary policy may lead to transitory deviations from pre-announced target rates" for inflation.
The monetary authority also lowered its inflation goal for the fourth quarter of 2020, setting it at 9 percent, plus or minus 3 percentage points.
With headline inflation now 5.25 percentage points below the 17.25 percent benchmark -- and assuming that underlying factors such as oil prices remain under control -- the central bank may cut interest rates by 100 basis points at its March 28 meeting, according to Naeem Holding, an investment bank based in Cairo.
"However, our expectations of a rate-cut might change in the scenario of oil prices rising above $70 per barrel," Naeem said in a note. In that case, "inflation could again see an interim upside due to partial implementation of the automatic fuel price indexation mechanism starting April."