Egypt Reels In New Bond Buyers in $3.8 Billion Market Return
(Bloomberg) -- Egypt raised $3.8 billion in its first international bond sale of the year, taking advantage of low borrowing costs as it seized on demand from investors from the U.S. to Asia.
The issuance was more than four times oversubscribed, with total bids of $16.5 billion, as 40 investors took part in Egypt's international bond sale for the first time, the Finance Ministry said Tuesday in a statement.
The sale included $750 million of notes due 2026 at a yield of 3.875% as well as $1.5 billion in 10-year notes at a yield of 5.875%, and $1.5 billion in bonds due 2061 at 7.5%. Demand from investors helped cut final yields on each of the notes by 37.5 basis points, the ministry said.
A wave of monetary stimulus and optimism that coronavirus vaccine rollouts will sustain a global economic recovery have emboldened investors to buy riskier debt, including in emerging markets. Egypt's dollar bonds gained about 13% in the fourth quarter, more than twice the average return of emerging-market sovereign debt.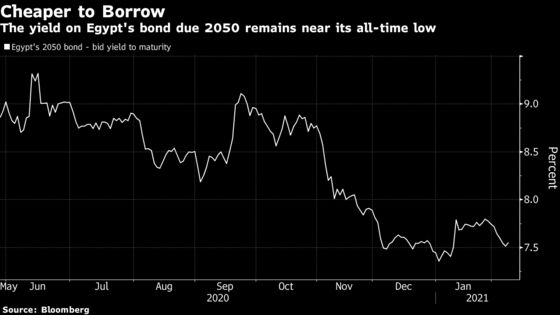 This week's debt sale will help Egypt cover part of its financing needs for the fiscal year ending in June "at good and low prices," the Finance Ministry said. It will also help in "extending the average maturities of debt and reducing the average cost of the government's debt," according to the statement.
It is the second time the country sold notes with a maturity of as long as 40 years, as it extends its liabilities and diversifies sources of funding to ease the borrowing cost for one of the Middle East's most indebted countries.
The extenal funding gap of the current fiscal year is estimated at around $8 billion, according to Cairo-based investment bank EFG Hermes. The pandemic has cut into the nation's main sources of foreign currency, including tourism and Suez Canal receipts.
"It's a good time for the issuance, considering the drop in yields over the past few months and the positive outlook for emerging markets this year," said Mohamed Abu Basha, the head of macroeconomic research at EFG Hermes.
Monday's offering was the first since Egypt's parliament approved borrowings of up to $7 billion in the current fiscal year. The most populous Arab nation raised $5 billion last year in its largest Eurobond issuance. It also sold the Middle East's first sovereign green bonds and secured financing from the International Monetary Fund.
Egypt has been Africa's most prolific Eurobond issuer in recent years.
There was a strong demand for Egypt's bonds given the country's "fiscal discipline," Abu Basha said. "The economy is also gradually recovering in the absence of stringent lockdowns".
Citigroup Inc., First Abu Dhabi Bank, Goldman Sachs International, HSBC Holdings Plc, JPMorgan Chase & Co., and Standard Chartered Plc arranged the sale.