Egyptian Inflation Slows, Giving Scope for Interest-Rate Cut
(Bloomberg) -- Egyptian inflation slowed for a second month, giving the central bank more leeway to make its first interest-rate cut since November.
Consumer prices in urban parts of Egypt grew an annual 4.3% in January, compared with 5.4% in December, the state-run statistics agency CAPMAS said Wednesday.
The slowdown was driven by a decline in food and beverage prices, the single largest component of the inflation basket, which dropped 0.5% year-on-year and 1.6% month-on-month, according to the report. Overall prices fell 0.4% on a monthly basis, the same rate as in December.
Core inflation, the gauge measured by the central bank that strips out volatile items, slowed to 3.6% in January from 3.8% the previous month.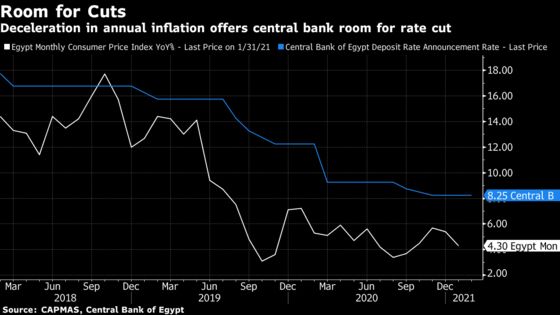 January's price-easing could allow Egypt to trim its benchmark while retaining one of the world's highest real rates -- a ranking that's helped attract foreign inflows into the North African country's debt market. Overseas holdings in local Treasury bills and bonds climbed to an 11-month high of $26.9 billion last month.
All the same, the central bank will be weighing things carefully. The Monetary Policy Committee held the deposit rate at 8.25% earlier this month, citing the progress of the coronavirus pandemic and unidentified containment steps influencing the near-term outlook. The next MPC meeting is on March 18.
"Rate cuts remain on the cards, but those will also depend on global developments as much as on inflation trends," said Mohamed Abu Basha, head of macroeconomic research at EFG Hermes, the Cairo-based investment bank. Any future monetary easing will probably be limited to a maximum of 100 basis points, he said.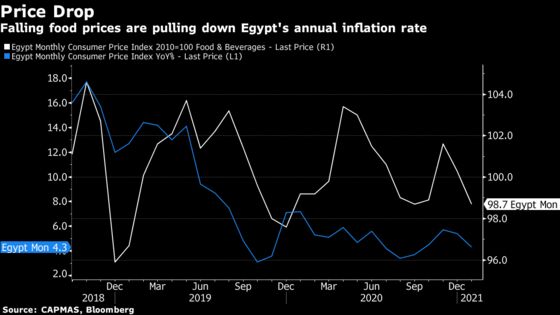 Analysts including Abu Basha are forecasting inflation will accelerate from February. Authorities have set an inflation target of 7%, plus or minus 2 percentage points, for the fourth quarter of 2022.