Egypt Extends Rate Pause With Eye on Global Economic Risks
(Bloomberg) -- Egypt held interest rates, putting monetary easing on pause for another month as the coronavirus keeps global markets on edge.
The deposit rate will remain at 8.25% and the lending rate at 9.25%, the central bank's Monetary Policy Committee said Thursday in a statement. Ten of 13 economists surveyed by Bloomberg had predicted the decision.
The second wave of the pandemic and containment steps "continue to weigh on the near-term outlook," the MPC said. "The path to global economic recovery remains a function of the efficacy, availability and the roll-out speed of vaccines which could ease the level of uncertainty regarding economic activity over the medium term."
After cutting a combined 850 basis points in 2019 and 2020, authorities are treading a cautious path amid mixed signs of when the pandemic will ease. Adjusted for prices, Egypt's policy rate is the highest after Vietnam and Malaysia among more than 50 major economies tracked by Bloomberg, an important factor in attracting foreign investment in the country's debt.
While some of the North African nation's main sources of foreign currency such as tourism and Suez Canal receipts have taken a hit from the virus, overseas holdings in local Treasury bills and bonds climbed to an 11-month high of $26.9 billion in January.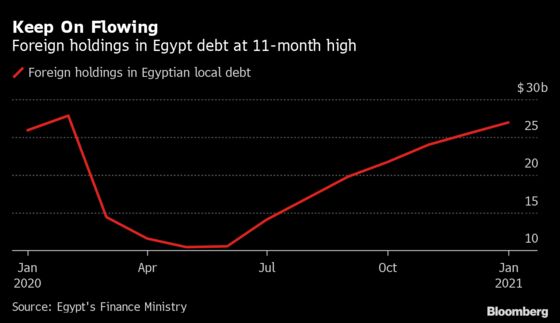 Egyptian inflation slowed to below the central bank's target range for the final three months of last year, resulting from "government containment measures on economic activity" amid the pandemic, the central bank said Thursday. "Several measures" by the government helped avoid supply shortages, it said.
Sluggish domestic demand, a strengthening currency and a fuel-pricing mechanism that reduces the impact of volatility in global energy prices, could allow a reduction of 50 basis points later in the first quarter, according to Farouk Soussa, an economist at Goldman Sachs Group Inc.
That's far from certain, though.
Carla Slim, an economist at Standard Chartered Plc., predicted before Thursday's decision that "the easing cycle has ended" for the immediate future.