What It Takes to Turn Cities Into Bulwarks Against Climate Change
Grownups look straight past the nuts and bolts of the city. Power lines and drainage grates go unseen. But my 8-year-old notices, even those up above the row houses. "Look at that," Felix says, "there's one with solar panels." It's a forerunner of the next city that he sees—the resilient cities we're going to have to figure out how to make before a third grader is old enough to vote. "One day, son," it's tempting to reply, arm sweeping over the residential blocks, "all of this will be solar panels!" And it will, too, because what's the alternative? 
Give the rooftops over to clean electricity and heat-absorbing shrubs. Let the lampposts double as charging points for cars, buses, and bikes. Supplant the paved paradise with something that doesn't flood quite so fast. (There's more in Kim Stanley Robinson's essay on cities as survival mechanisms.)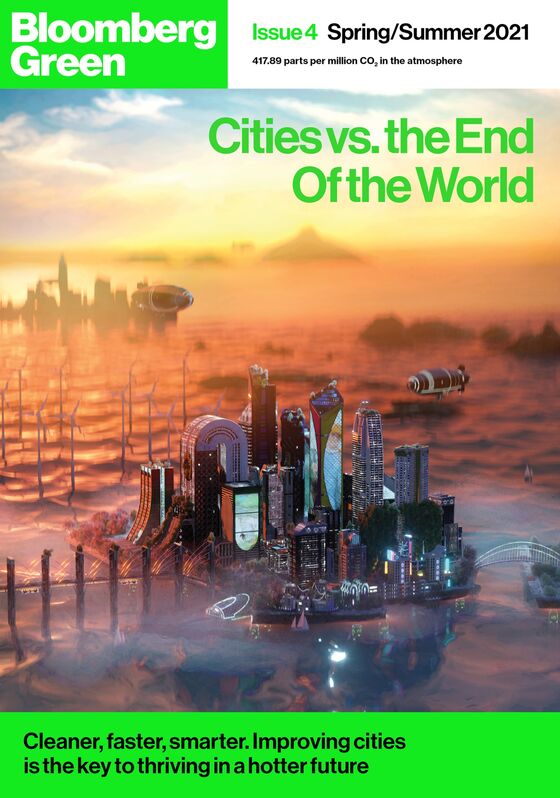 That's the trick with resilient futures. Building back better has to start with seeing all the ways people can get hurt.
Stories from the latest issue will continue rolling out until April 21, with everything we've published available on this collection page. The only magazine focused on climate and the energy transition is sent to our all-access subscribers, so sign up today to receive a print edition along with full digital access to Bloomberg Green. Here are some of the highlights so far…
What happens when oil giants walk away from fossil fuel assets? It's supposed to be a big win for the planet. But that's not the case—at all—with BP's deal to ditch its vast Alaskan oil complex. This exclusive investigation shows how BP's multibillion-dollar deals last year lowered its own emissions even while generating more greenhouse gas. Only now those emissions are largely hidden from scrutiny.