Six French Nuclear Reactors Suffering Quality Issues
Electricite de France SA, the country's largest power generator, said it doesn't think manufacturing anomalies on nuclear-reactor equipment require immediate action. Electricity prices plunged on the news.
EDF said that while it found "deviations" on components at six of its 58 operating French reactors and at another under construction, it believes the parts are fit to use. The utility produces more than 70% of the nation's electricity from its atomic plants.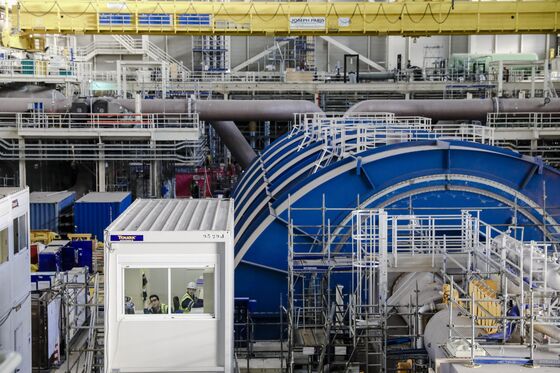 Wednesday's statement was awaited with some nervousness among traders, after EDF warned earlier this month that some of its reactors may contain substandard equipment. The French nuclear safety authority, which subsequently said at least five reactors were affected, will now have to decide whether any units need to be halted for repairs.
"We're very confident on the matter," Regis Clement, deputy head of EDF's reactor division, said on a conference call. "We're absolutely not in a scenario under which we should plan to replace this equipment in the medium term."
French power for next month posted its biggest decline since February, dropping as much as 7.4% to 45.90 euros a megawatt-hour, according to broker data compiled by Bloomberg. EDF shares climbed as much as 3.9% to 10.77 euros in Paris.
"Knowing that only six reactors are affected and that EDF's assessment is that no immediate action is needed is positive," JPMorgan Chase & Co. analysts said in a note.
EDF has identified 16 steam generators at six operating reactor units that don't meet manufacturing standards, it said. The heavy components are installed at two units in Blayais near Bordeaux, one in Bugey near Lyon, another in Dampierre-en-Burly on the Loire River, one in Paluel in Normandy and one at Fessenheim near the German border. The Fessenheim plant is scheduled to close next year as France plans an expansion in renewable energy.
EDF also found that equipment at an atomic plant being built in Flamanville -- already beset by construction problems -- showed deviations, as did new generators destined for the Gravelines site in northern France.
"There is still the risk that the French nuclear safety authority will decide that unplanned outages will be required for repairs, but today's announcement implies that this would only be the case for just over 10% of EDF's operating reactors," Barclays Plc analyst Peter Crampton wrote in a note.
The uncertainty over the reliability of some of EDF's reactors had previously sent power prices surging both in France and neighboring countries, and the utility's shares have recently slumped amid concern that a prolonged halt would curb the company's earnings.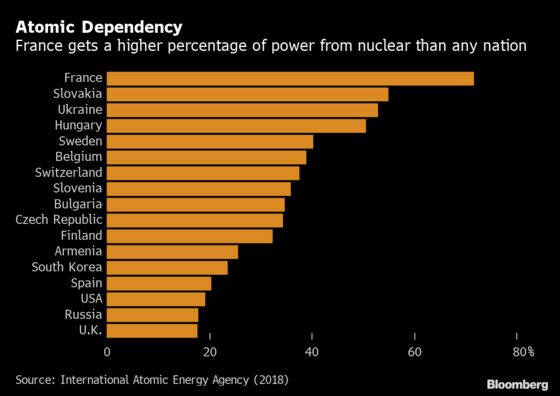 EDF has already started talks with the nuclear authority, which may ask for additional information before ruling on the safety of the components, Clement said. Earlier this year, the watchdog disagreed with EDF over the need for repairs at the Flamanville project, saying the utility must fix faulty welds.
The regulator hasn't made any objection to EDF's plans to replace steam generators at Gravelines with the affected equipment, Clement said. The replacement of steam generators is usually part of works to extend the lifetime of plants, and it takes several years to manufacture them, he said.
EDF's repeated problems with the quality of reactor components, which include anomalies in manufacturing records at the Creusot forge, add to growing global concerns about the suitability of nuclear energy as a cleaner alternative to burning fossil fuels.
EDF is also facing issues with some of its aging U.K. nuclear stations, while rival French utility Engie SA had to halt some reactors in Belgium last year, raising fears of a blackout. As well as questions about the safety of reactors following the Chernobyl and Fukushima disasters, there are doubts about their economic viability as the cost of renewable energy plunges.
Framatome SA, a French supplier of atomic equipment taken over by EDF and partners almost two years ago, has informed the utility that the heat treatment of some steam generator welds didn't adhere to temperature rules, EDF said Sept. 10.