Ecuador Said to Plan IADB-Backed $400 Million Bond for Housing
(Bloomberg) -- Ecuador is preparing to sell $400 million in bonds backed by the Inter-American Development Bank to fund the country's housing program, according to a person with direct knowledge of the transaction.
The so-called "social bond" will be offered to investors this week, said the person, who asked not to be identified because the information isn't public. The IADB would pay bondholders $300 million in the event of a default, the person added.
Ecuador, one of the first South American countries to face mass protests last year, has struggled to meet the terms of an International Monetary Fund deal and to lower costs to access international capital markets -- the country's benchmark bond due in 2029 currently yields 11.6%, among the highest of its category.
Social bonds are intended to provide governments with funds earmarked for sustainable development goals. Ecuador's social housing fund offers loans at subsidized interest rates to middle-income Ecuadorians. It currently has $138 million in assets.
The government of President Lenin Moreno is also trying to boost the construction sector to help revive Ecuador's weak economy. Gross domestic product contracted 0.5% in 2019, according to IMF estimates.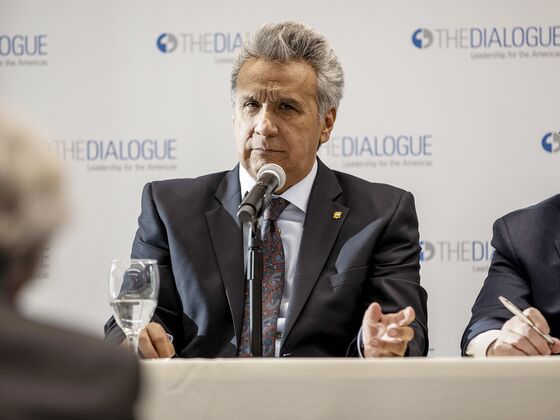 Ecuador Bonds Rally as Netflix Tax Helps Keep IMF Deal Alive
Ecuador faced unrest last year when the government cut fuel subsidies to try to keep its $4.2 billion IMF deal on track. The government eventually backed down, and passed a watered-down tax bill.
The bond would be the first issued by the country since June. Chile issued a "green sovereign bond" in June 2019 to spur investment into transportation and construction with low carbon emissions.