ECB Move to Lift Ban on Bank Dividends Fails to Cheer Investors
(Bloomberg) -- European bank regulators put strict limits on payouts to shareholders in a long-awaited decision to lift a de-facto ban on dividends, underscoring the challenges for lenders as the region enters a second wave of lockdowns.
Lenders including Italy's Intesa Sanpaolo SpA that had pledged to return large amounts of capital to shareholders fell on Wednesday, after the European Central Bank urged the continent's banks to keep dividends and share repurchases to less than 15% of profit for 2019 and 2020, or 0.2% of their key capital ratio, whichever is lower. That's a more conservative payout level than the Bank of England announced last week.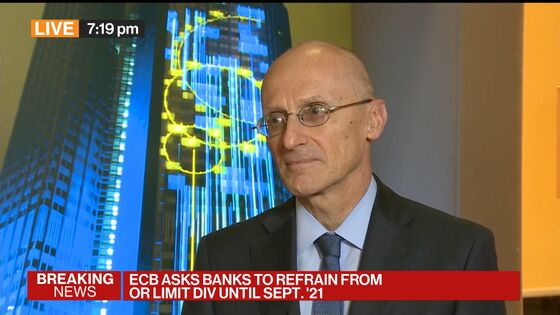 European lenders' shares have lagged behind the broader market this year, after they repeatedly warned that being unable to return cash to investors risks cutting them off from capital markets. Despite optimism that the end of the pandemic is in sight, some regulators remain concerned that allowing a full return to payouts may leave banks without the financial reserves to bear losses without taxpayer bailouts.
The tight conditions under which banks can pay dividends "are disappointing," Berenberg analysts including Andrew Lowe wrote in a note. "The resumption of dividends has been billed as a positive catalyst, but this has now been kicked into the long grass."
Intesa, Nordea Bank Abp, ING Groep NV and KBC Group NV are among the lenders most affected by the constraints because they have the biggest gap between expectations for capital returns and what they're actually allowed to pay out under the rules, the Berenberg analysts wrote.
Intesa, whose Chief Executive Officer Carlo Messina pursued one of the most generous dividend policies in Europe's financial industry before the pandemic, fell as much as 1.5% in early trading. Nordea also lost that much before paring declines.
The cap makes the ECB one of the more hawkish banking watchdogs in Europe. The Bank of England said last week that it will allow lenders to make payouts that don't exceed 0.2% of their risk-weighted assets, or 25% of cumulative quarterly profits over 2019 and 2020, after deducting shareholder distributions.
The Federal Reserve has barred the biggest U.S. banks from stock buybacks and capped dividend payouts at second-quarter levels through the rest of 2020.
"It's an important opening," Andrea Enria, head of the ECB's supervisory arm, said in a Bloomberg Television interview. "We are moving slowly back to normal, although we are not in normality yet."
While the economy's path is clearer, there's "not a lot of visibility on the asset quality trajectory" at banks, Enria said. Financial institutions are also benefiting from government, central bank and regulatory support, which justifies the ECB's call for prudence, he said.
Bloomberg reported last week that European regulators planned to take a more conservative approach than the BOE.
Banks will probably pay out 10 billion euros to 12 billion euros if they stick to the cap, or about one third of what they would during a normal year, Enria said. "We don't expect to have to intervene too much," he said. "Most of the banks have already decided to be moderate."
The limitations come as a disappointment to some lenders that had raised the prospect of higher payouts. France's BNP Paribas SA said last month that it had set aside funds in line with a policy of paying out 50% of profit. Still, lenders look set to be free to return more money to shareholders in the fourth quarter of next year.
As the pandemic progressed and banks largely managed to deal with the fallout, some of the hardest-hit by the suspension have become more vocal in demanding a return to payouts. Societe Generale SA Chairman Lorenzo Bini-Smaghi and Banco Santander SA counterpart Ana Botin, warned that the ban could backfire by making loans more expensive and even cutting banks off from investor funds.
"The prohibition to distribute dividends, even small dividends, even symbolic dividends is a measure which is scaring investors from entering the banking sector," Bini-Smaghi said last month. "The issue is how to make the banking system investable."
Enria said he doesn't think banks in the euro area will be at a disadvantage compared to peers because of its measures. "We intend to repeal this recommendation in September," he said in the interview. "We are going back to the ordinary situation in which supervisors will vet the dividend payments decisions by banks in the normal supervisory process on a bank specific basis."
Lenders need to be profitable and have "robust capital trajectories" if they want to return funds to shareholders and will need to contact their regulators "to discuss whether the level of intended distribution is prudent," the ECB said, without giving more information.
The watchdog also urged banks to adopt "extreme moderation" when setting staff compensation.