ECB Says Virus No Excuse for Banks to Miss Brexit Staff Goal
(Bloomberg) -- The European Central Bank said lenders rolling out their Brexit plans won't be allowed to use the ongoing pandemic as an excuse to delay relocating staff to the European Union.
Future moves need to be planned with the coronavirus "as a baseline assumption and be subject to only minimal delays," the central bank said. Remote working arrangements don't change the need to have enough staff in the EU to manage the risks that banks take and ensure effective supervision by the ECB, it said.
With less than two months to go until the Brexit transition period expires, international banks have been beefing up operations in the EU to make sure they can service clients, given the prospect that U.K.-based firms won't retain passporting rights in a trade deal. The pandemic has complicated the already costly move of staff and assets, as employees face travel restrictions and socially distanced interaction with schools and real-estate agents.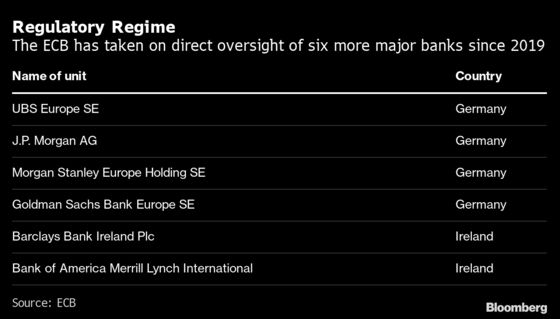 The ECB said that while it has provided banks with flexibility where required, "no additional flexibility is foreseen in principle." The Frankfurt-based institution expects to be shown evidence that staff have been or will be duly integrated in banks' new EU hubs, according to an update from its banking supervision unit on Wednesday.
The ECB said a few banks still need to complete their Brexit plans, notably in ensuring that contracts with clients are updated to reflect the names of EU entities rather than U.K. units. That's a key source of risk for the industry because not updating those agreements could cause turmoil in markets if they lapse.
"Overall, the year-end risks for banks supervised directly by the ECB appear to be contained," the watchdog said.
Still, moving staff and assets is only a first step, according to the ECB, which also said:
Banks need to be "structurally profitable" and shouldn't be overly-reliant on operations in countries outside the EU
Lenders should generally source euro-denominated funding for their EU businesses locally
Banks should prepare for the potential loss of access to U.K. clearing houses