ECB's 2008 Rate Hike Revisited: The Crisis It Didn't See Coming
(Bloomberg) -- Ten years since the European Central Bank raised interest rates, only to reverse course within months after Lehman Brothers Holdings Inc. collapsed and markets seized up, policy makers are still defending their action.
The decision on July 3, 2008, to lift the benchmark rate a quarter point to 4.25 percent was seen by investors as risky, but then-President Jean-Claude Trichet said at the time that it was needed to curb inflation. He also said the 21 Governing Council members were unanimous.
Gertrude Tumpel-Gugerell was among those former policy makers who recalled the meeting to Bloomberg.
"Lehman was unpredictable. It's true that we saw strong credit expansion in the years before, but the systemic crisis couldn't have been foreseen. Our main objective was to keep inflation expectations anchored, even if growth was slowing somewhat."
-- Gertrude Tumpel-Gugerell, ECB Executive Board 2003-2011
Inflation was running 4 percent when policy makers met, or more than twice their goal. While it was driven by surging oil prices -- the underlying rate excluding energy and food was below 2 percent -- the concern was that the pressures were growing.
"Inflation is now the number one concern of our 320 million fellow citizens. They are counting on us to be the anchor of price stability in a period which is obviously very demanding. They can count on us. They can have confidence in the fact that the Governing Council of the ECB will do what is necessary."
-- Jean-Claude Trichet at his press conference on July 3, 2008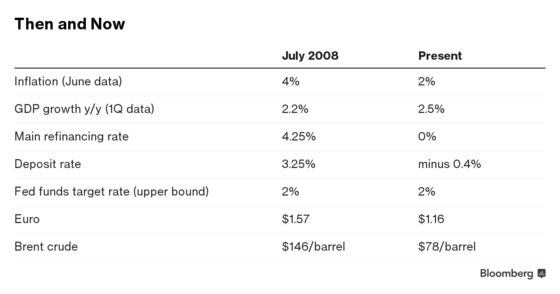 George Provopoulos remembered the meeting as his first as governor of the Greek central bank, a job he'd started just two weeks earlier.
"From an inflation point of view things looked to be worsening. That's why this decision was taken then. But after a few months, in early September, the Lehman Brothers problem erupted and then suddenly the whole environment changed everywhere worldwide. Then we realized that it was not an American-only crisis, it was an international crisis."
-- George Provopoulos, ECB Governing Council 2008-2014
Three of the current Governing Council members took part in the decision, including President Mario Draghi, who was then governor of the Bank of Italy. Executive Board member Yves Mersch was Luxembourg's central-bank governor, and Erkki Liikanen headed the Bank of Finland.
The three men, who declined to comment for this story, and their colleagues then watched as Lehman imploded, Bank of America Corp. bought a battered Merrill Lynch & Co., and the U.S. government took control of American International Group Inc.
Global markets plunged, lenders were rescued across Europe, and the world's major central banks pumped hundreds of billions of euros, dollars and other currencies into the financial system. In a coordinated move in October, the ECB cut its main refinancing rate by half a percentage point -- and kept going. By May 2009, it was down to 1 percent.
"The biggest takeaway is it gives you an indication of how completely blind-sided a lot of the official institutions were about the state of the financial system at the time and therefore the incipient crisis," said James Nixon, an economist at Societe Generale in 2008 who is now at Oxford Economics. "From my own experience as an economist, it wasn't really on our radar."
There had been warning signs though. The euro-area economy was slowing, and Spain and Ireland were going through a real-estate bust. The ECB's Financial Stability Review had a month earlier characterized the outlook as "highly uncertain" and noted that banks were "retrenching from risk-taking."
The Federal Reserve had reduced U.S. rates seven times in the previous 10 months as it dealt with problems including the collapse of Bear Stearns Cos. The Bank of England had cut its key rate three times in the wake of a run on Northern Rock Plc.
Lucas Papademos, who was the ECB's vice president, also defends the action.
"The council was of course aware that the economic and financial situation was deteriorating and that there were downside risks to the growth outlook. Nevertheless, the magnitude of those risks was not considered to be very serious and moderate economic growth was expected over the medium term."
-- Lucas Papademos, ECB vice president 2002-2010
Vitor Constancio was Portugal's governor at the time, before succeeding Papademos as ECB vice president. That term ended in May, and looking back at 2008 in one of his final speeches, he said policy makers were "overreacting" to the headline inflation number. Athanasios Orphanides, the Cypriot central bank governor then, wrote in a 2014 paper that the ECB's response to the crisis was "somewhat delayed."
Trichet hiked interest rates again -- twice -- in 2011. Once more, the action backfired. Draghi immediately loosened policy when he took over in November that year as the euro area slid into a double-dip recession and debt crisis.
He's been loosening ever since. But now the Governing Council is preparing to try again, ending its bond-buying program and signaling that borrowing costs could rise from current record lows after the summer of 2019.
It won't be an easy decision, as Liikanen noted in a speech in November 2011.
"The famous researcher of financial crises, Charles Kindleberger, has written that 'too little and too late' is one of the saddest sentences in the dictionary of central banking, but that 'too much and too soon' isn't much better."
-- Erkki Liikanen, ECB Governing Council 2004-2018