ECB Grappling Italy, Inflation to Give Traders Food for Thought
(Bloomberg) -- Euro and bond traders will scrutinize Mario Draghi's views on Italy and inflation at the European Central Bank's penultimate meeting this year, though the bar for a surprise to drive markets may be high.
The ECB has carefully laid out its plan for extracting itself from ultra-loose monetary policy, with investors focused on how the institution may reinvest proceeds from maturing debt. Any hawkish signals on inflation may give the euro a boost, with the currency's drop to a two-month low on Wednesday reflecting policy makers' dovishness, slowing growth and Italian risk.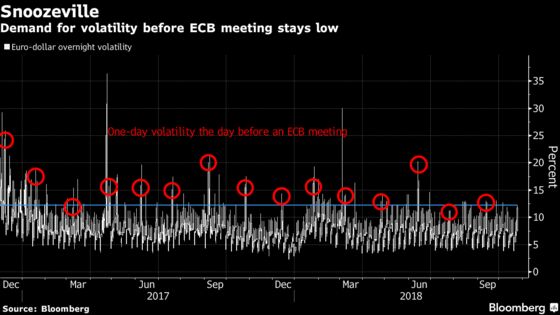 "We doubt that the Italian drama will scupper the ECB's policy normalization plans, as long as there is little evidence of contagion to the rest of the euro zone," wrote Credit Agricole SA strategists led by Valentin Marinov, who recommend being long the euro versus the dollar.
Draghi propelled the euro to a three-month high in September after he described inflationary pressures as "relatively vigorous," though the currency has since retraced its move in the face of growing fiscal concerns in Italy. Bund yields meanwhile have struggled to break past 0.5 percent and a record yield spread versus Treasuries is symptomatic of growing monetary policy divergence between the ECB and the Federal Reserve.
The ECB's task may become trickier after data Wednesday showed economic momentum in the euro area slowing to its weakest in more than two years amid global trade tensions. A composite Purchasing Managers' Index dropped to 52.7 in October from 54.1 in September, well below the expectations of economists.
IHS Markit economist Chris Williamson said such a level would historically be consistent with a bias toward looser, not tighter monetary policy.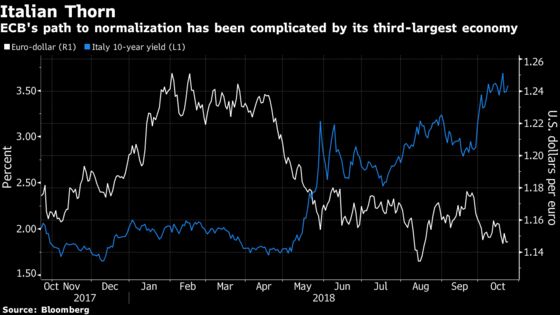 While fresh asset purchases are due to come to a close by the end of the year, the ECB could choose to announce a longer timescale over which it must reinvest maturing debt, change the countries in which it does so, or alter the length of maturities it holds. Italy's bonds may have most to lose, given they have been one of the largest beneficiaries.
Here is a selection of analysts' market views ahead of Thursday's meeting:
Draghi is likely to to stand by the "vigorous" wording as cover to end net purchases, write strategists including Harvinder Sian

That makes the rally in the front-end of the euro rates curve a fade

"The optionality lost could be replaced by new optionality in reinvestments"

"Allowing longer to re-invest and/or adding ambiguity on jurisdiction can be justified on technical grounds but in reality introduces flexibility that could be construed as helpful for BTPs"
"The near-term risk that the ECB would shift meaningfully in a more hawkish direction is low," writes strategist Elaine Lin

"Such risk should come in 2H 2019 if we see a more sustainable rise in core inflation in the next 6-9 months"

Further weakening of global risk sentiment and slowing growth momentum in Europe should continue to anchor the back-end of the yield curve
"A passive operation twist, if announced or implemented, should suggest the ECB's intention to keep the amount of monetary stimulus constant for the near future"

Recommends flattener in France 10-year, 30-year yield curve given likelihood of an "operation twist" staying on the table

The ECB is likely to continue to emphasize a bullish tone on inflation, which should support the euro, said strategists including Hans Redeker
ECB is a "reluctant participant in the game of chicken" between the Italian government and the EU," Marinov writes
"The improving growth and inflation outlook in the currency bloc should continue to outweigh the negative impact from headline political risks and allow the ECB to start removing policy accommodation in 2019"
Expects the ECB to keep an unchanged stance on monetary policy, which should "at least put a floor" under the euro

Recommends long euro position versus the dollar and the Swiss franc
Though euro downside may emerge from the ECB meeting as growth has disappointed since the September decision, "we see little scope to tweak policy itself," writes strategist Mazen Issa
"Some of the latent dovishness that could emerge in the press conference is well reflected in EUR/USD at the moment"
Favors the euro falling against the yen, with downside support "located just below the 128 mark"
"Since the ECB's September meeting, activity data have continued to signal weak trade dynamics and the increase in geopolitical risks have continued to support the rally in oil prices," writes strategist Giuseppe Maraffino

"We do not rule out President Draghi providing some suggestions on the possible technical change in the reinvestment that might be announced at the December meeting"

Maintains long 10y-30y flattening trade in France as "a bear/bull curve-flattening macro view, which can also benefit from the ECB's potential extension of reinvestment maturities"