Sewing to Draghi Want Bank Union to Accelerate as Rivals Swarm
(Bloomberg) -- Europe's most senior bankers pleaded in concert with the European Union to speed up its banking and capital markets union projects, warning that the region risks falling further behind the U.S. and China in the global economy.
"If you really want to have a competitive edge" versus the Americas and Asia, "we must complete the banking union," Deutsche Bank AG Chief Executive Officer Christian Sewing said Tuesday at the Bloomberg European Capital Markets Forum in Milan. "We need one single standard."
A decade after the global financial crisis and a sovereign-debt crisis that almost tore the single currency apart, work on a single banking framework remains incomplete. That is delaying a necessary process of consolidation that would create European banks large enough to compete globally. The EU may also be running out of time to complete the projects, as a wave of nationalist and populist opinion in member states makes large-scale integration harder to deliver.
"The largest exporting economy and the largest economy in Europe does not have banks today able to support their SMEs," UniCredit SpA Chief Executive Officer Jean Pierre Mustier said at an event in Paris, adding that the problem isn't limited to Germany. "Europe will succeed if we have bigger banks which will be more efficient, which will deliver better services to their SMEs and which will support growth." SMEs are small- and medium-sized enterprises, the backbone of most economies.
Stumbling blocks to the completing the union include a common deposit insurance, which countries such as Germany fear would leave them on the hook to underwrite weaker lenders in southern economies. Officials also fear that banks are still hiding potential time-bombs in their balance sheets in the form of complex structured assets.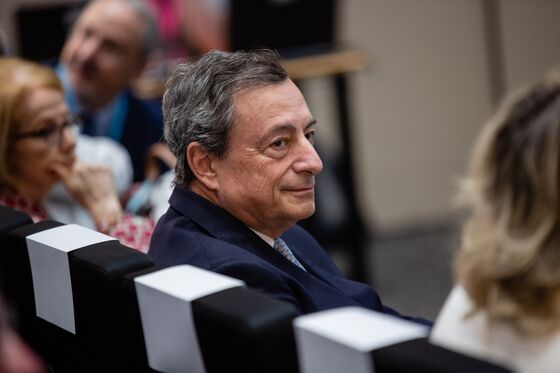 Banks need to speed up disposal of their bad loans and shrink their hard-to-value investments if they want to feel comfortable enough to merge, European Central Bank President Mario Draghi said at the same event as Mustier.
For much of the region, especially those parts scarred by the euro debt crisis between 2010 and 2013, deposit insurance remains the most pressing issue, and one that is now overdue.
"Risk reduction has gone all the way, and now the moment for introducing the risk-sharing mechanism is certainly right," UniCredit Chairman Fabrizio Saccomanni said at Bloomberg's forum in Milan. "There has been an increase in capital requirements, liquidity requirements, even the NPLs are declining everywhere, including in Italy where they are falling faster than anywhere else."
Deposit insurance has had to take a back seat for the last five years while banks worked on reducing their bad assets, and bureaucrats set up a framework for bank supervision and resolution under the ECB. But the financial system of the world's largest single market is still largely stitched together out of national systems.
"We still have a lot of different approaches on regulation, on fiscal treatment, on administrative charges, on insolvency laws and so forth," Saccomanni said.
"Harmonizing options and discretions, completing resolution, and laying the groundwork for the creation of an effective deposit insurance -- is essential," Draghi said, adding that he was "confident that significant steps will soon be taken."
Nor do the challenges to Europe's banks end in Brussels. Both Sewing and Saccomanni pointed to the threat to Europe's banks from U.S. tech giants who are set to capitalize on a trend toward digital banking.
Sewing stressed the challenge for traditional banks to stay relevant as risk managers for their clients in an environment that will increasingly be dominated by online platforms. Saccomanni warned that the tech giants must not be allowed an unfair advantage by escaping the regulation that traditional banks are subject to.
"It's important that we establish a level playing field," Saccomanni he said, referring to both a European and global level.