EBay Wasn't Interested in a Deal With NYSE's Owner, CEO Says
(Bloomberg) -- Intercontinental Exchange Inc. Chief Executive Officer Jeff Sprecher spent almost 40 minutes explaining why the firm was interested in a tie-up with EBay Inc. Investors weren't persuaded.
Late Thursday, the owner of the New York Stock Exchange said it's giving up the pursuit.
"Based on investor conversations following today's ICE earnings call, ICE has decided to cease exploring strategic opportunities with EBay," the exchange operator said in a statement.
EBay "was not interested" in a deal, Sprecher had told analysts on ICE's earnings call earlier in the day. "Curiosity, and the fact that we know people there, led us to open a dialogue. And that's kind of the end of the story."
Analysts spent most of the call's Q&A portion asking Sprecher about ICE's broader deal strategy in light of its interest in EBay. He said a press report about talks with EBay prompted speculation about an imminent deal, spurring his company to clarify that EBay hadn't engaged "in a meaningful way" and the companies weren't in negotiations.
ICE shares fell 3% during regular trading Thursday, a decline that followed the 7.5% slump two days earlier, when its EBay approach was reported. They gained 2.7% at 4:41 p.m. in after-hours trading.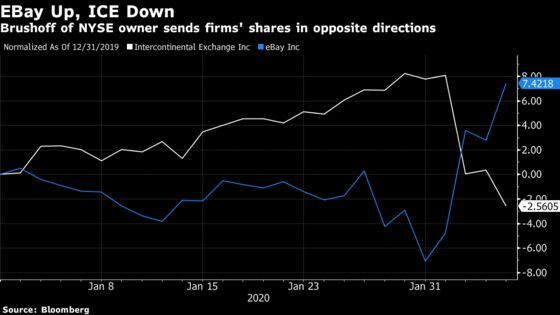 Read more: ICE extends losses as analysts air EBay deal concerns
Sprecher, on Thursday's call, said that ICE, which owns the New York Stock Exchange, saw similarities in the two businesses as marketplaces that collect and organize data.
"ICE has a long history of creating shareholder value and we've done so by thinking outside the box and by engaging in value-accretive transactions," he said. Looking ahead, it's most likely to consider deals for large, complex companies that can be reinvigorated, or small firms that would benefit from ICE's larger platform.
The EBay approach had many analysts scratching their heads. The potential link-up has no clear rationale, Piper Sandler Cos. said, while Oppenheimer & Co. voiced a widespread reaction when headlines about the talks first appeared: EBay is not a "conventional" M&A target for an exchange.