EBay Soars as Traders Cite Unconfirmed Chatter on Activist Stake
(Bloomberg) -- EBay Inc. is soaring on speculation of interest from an activist investor, according to several traders.
Shares are up as much as 6.2 percent, its biggest gain in more than 8 months, to lead the S&P 500 index. Options were particularly active as total call volume spiked to over 6 times the twenty-day average, led by the October $33.50 calls.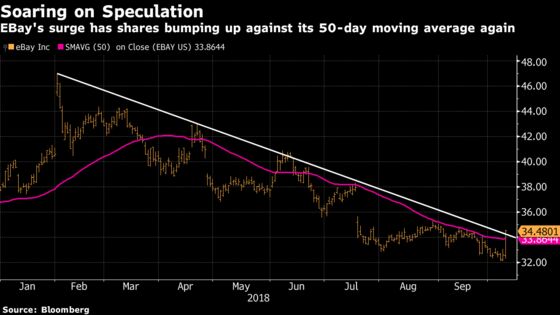 TheDeal.com reported two weeks ago that several activists are "sniffing out" EBay and a campaign "could arise soon," citing a source. Third Point's Dan Loeb could show interest as well as Carl Icahn, who helped pressure EBay to spin off PayPal in 2015, TheDeal.com reported. Glenview Capital Management also owns a 1.2 percent stake in the company.
EBay didn't immediately return an email message seeking comment.