Eat Just's Cultured-Meat Unit Raises $170 Million in Funding
(Bloomberg) -- Eat Just Inc., the San Francisco-based maker of plant-based egg products, raised $170 million in new funding to help expand its cell-based meat subsidiary.
Funds were raised from UBS O'Connor, a hedge fund manager within UBS Asset Management, Graphene Ventures, K3 Ventures and others. The money will be used to increase Good Meat's production capacity and accelerate research for cultivating meat from cells harvested from animals.
"There are a lot of benefits to being part of the whole, but Good Meat does need dedicated capital and dedicated resources if it's going to succeed in the way we want," Eat Just Chief Executive Officer Josh Tetrick said in an interview. Tetrick and the company's chief technology officer, Peter Licari, will retain leadership positions in both businesses and some employees will work in both as well.
The company, which currently sells its plant-based egg products in U.S. supermarkets, also raised $200 million in a funding round in March. At the time, the company was valued at more than $1 billion, and that amount has not changed with the new funding, the company said.
Last year, Eat Just became the first company to sell cultivated meat to the public when it started offering cell-grown chicken in a restaurant in Singapore; another Singapore restaurant will soon join it. The company has also started selling through Foodpanda, a food and grocery delivery platform in Asia.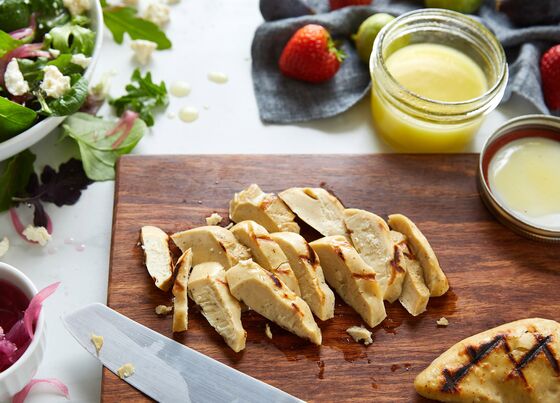 Now, the company is aiming to ramp up production and sales of the product in Singapore and, when possible, in the U.S. as well. The company plans to produce in the "thousands of pounds range" this year, Tetrick said, but added that's "way short" of what is required.
Cellular agriculture companies produce proteins like beef and chicken by growing meat from cells instead of slaughtering live animals, as opposed to companies like Beyond Meat and Impossible foods that make meat-like products out of vegetable materials.
The cultivated meat companies must get approval from the U.S. Department of Agriculture and the Food and Drug Administration before they can offer their products to the public. There is no public timeline for this, but industry executives have expressed optimism. Companies are currently awaiting guidance on labeling standards, which would be an important step toward retail sales.
Tetrick has said the company will be ready to launch in the U.S. shortly after getting the regulatory green light. The company, which is producing cultivated chicken and beef in Northern California, is in talks with food-service and retail partners about initiating sales, he added. Upside Foods, formerly known as Memphis Meats, made a similar announcement last week.
The industry, which now includes more than 70 companies globally and could make up as much as 35% of the $1.8 trillion global meat market by 2040, according to an estimate from Kearney, is expecting to draw on the same young consumers that have pushed plant-based proteins into the mainstream.
Many of those consumers cite the environmental benefits of plant-based meats as a major draw to the products. While similar arguments have been made for cultivated meat, it has yet to be proven. Cultured meat will still produce emissions from heating and electricity, a recent assessment by environmental researcher CE Delft found. Based on nations' stated power and gas policies for 2030, cultivated meat is expected to have a lower environmental impact than beef, but higher than chicken, pork and plant-based alternatives.
These findings should provide more reason to move to renewable power, said Bruce Friedrich, founder and executive director of the Good Food Institute, an industry group.
Some investors have voiced concern about demand.
"The uncertainty to me is consumer acceptance in the U.S. market," said Tom Mastrobuoni, chief investment officer of Big Idea Ventures, which invests in both plant-based and cell-based companies.
In a survey, Eat Just found that 72% of U.S. and 83% of Singaporean chicken consumers would consider buying cell-based chicken. The company's educational campaign in Singapore has helped spark its success there, said Stephanie Dorsey, a founding partner at E2JDJ, a food investment firm. The company provides educational materials on menus, billboards and with Foodpanda.
"It's new at first, it's strange, but then it becomes normalized," she said