EasyJet's Cost of Cash Sinks After Johnson's Summer Travel Plan
(Bloomberg) -- EasyJet Plc saw big demand for its first bond sale since 2019, underscoring the strength of the reopening trade even for the battered tourism industry.
The discount airline's 1.2 billion euro ($1.5 billion) sale of seven-year notes was four times subscribed on Wednesday, according to a person familiar with the matter. The enthusiasm for the deal drove down borrowing costs, with yields falling as much as 37.5 basis points, the person said.
"Quite a blowout deal," according to Daniel Ender, a fixed-income strategist at ABN Amro Bank NV. "Much stronger demand than any airliner so far," he said.
With U.K. Prime Minister Boris Johnson planning to restart international travel in mid-May, investors are bracing for a wave of pent-up demand from holiday-starved Britons. Airline stocks are surging and companies are using the opportunity to lock in low borrowing costs.
EasyJet shares have surged 18% so far this week. The bond sale stands to be the largest single-tranche corporate note offered in Europe's syndicated bond market this year, according to data compiled by Bloomberg.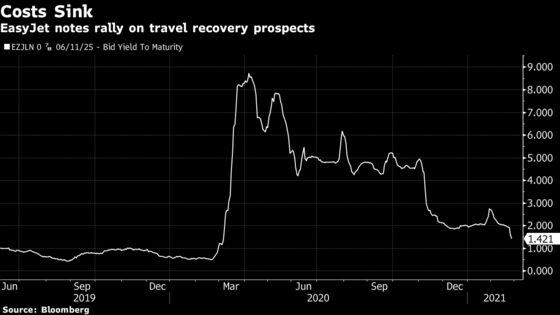 Other airlines have seen intense demand. When Wizz Air sold 500 million euros of bonds in January, it received more than 2 billion euros in bids. In September, Ryanair Holdings Plc's 850 million-euro debt sale was more than four times subscribed.
"It's great timing for EasyJet, just not so great timing for credit investors," said Luke Hickmore, an investment director at Aberdeen Standard Investments. "If you wanted to buy airline debt you needed to buy it one month ago at least," he said.
EasyJet declined to comment on the bond sale. The sale will "further improve our debt maturity profile," a spokeswoman said ahead of the deal.