EasyJet Lifts Profit by Making It Simpler to Upgrade Flights
(Bloomberg) -- EasyJet Plc gained the most in six months after raising full-year profit guidance and showcasing the U.K. carrier's first Airbus SE A321neo plane at the Farnborough air show. 
The budget carrier said passengers are paying extra for allocated seating and check-in bags, after the Luton, England-based company overhauled the website to make it less difficult to book those options. Full-year pretax profit is now seen at between 550 million pounds ($640 million) and 590 million pounds, up from a previous range of as much as 580 million pounds.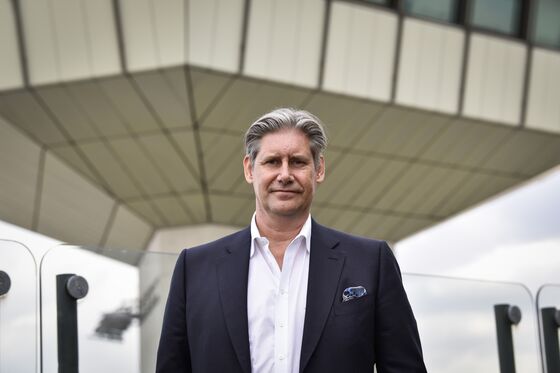 EasyJet shares advanced as much as 5.1 percent, the most in six months, and traded 2.3 percent higher at 1,691 pence as of 3:19 p.m. in London. After reporting the improved guidance, Chief Executive Officer Johan Lundgren boarded the A321neo with reporters for its inaugural flight from London to the biennial industry event south of the city.
The CEO is "very convinced" there won't be any disruption to flying after the U.K. leaves the European Union, he said. Nonetheless the carrier is continuing to shore up its European shareholder base to become at least 50 percent EU-owned, ensuring that it can keep operating if ownership rules change.
That's to ensure flexibility, said Lundgren, who joined EasyJet in December from tour operator TUI AG.
A U.K. government white paper published last week said there may be a deal modeled on an EU-Canada accord that would allow for flexibility on airline ownership. It's "a good step for aviation because I think it strikes quite a liberal deal," Lundgren told reporters on the flight.
"It's very much based on what it is today," he said. "Now the question is, can you start engaging with your European counterparts to take this forward?"
No decision has been taken on whether to convert more of EasyJet's A320 orders to bigger A321 jets, Lundgren said.
Revenue rose 14 percent to 1.6 billion pounds in the third quarter, boosted by higher fares amid what the carrier described as a "benign competitor environment." Rivals took up fewer slots from defunct Monarch Airlines than EasyJet expected. There are also "challenges for competitors in France," where Air France is struggling with labor strife and looking for a new CEO.
The airline expects warm weather may slow travel demand as people holiday at home in the airline's fourth quarter, though Lundgren said he doesn't think the impact will be significant. At the same time, walkouts by Ryanair Holdings Plc pilots may bolster demand, though there'll be no "opportunistic" price increases, he said.
EasyJet will file a complaint with the Commission over the impact of air traffic control strikes, the CEO said. Disruption costs have been 25 million pounds higher this quarter than a year ago because of the disruption and bad weather, with the carrier having to provide 70,000 hotel rooms for stranded customers.
EasyJet aims to break even on its Berlin Tegel operations in the 2019 fiscal year, Lundgren said. Headline losses at Tegel are expected to be about 125 million pounds, more than previous guidance of up to 95 million pounds.
Extra fees from check-in bags and allocated seating helped ancillary revenues per seat rise 11.5 percent in the third quarter through June.