Dubai Airports Capacity to Hit 90% of Pre-Virus Levels by Autumn
(Bloomberg) -- Dubai Airport, the world's largest by international passenger numbers, expects to recover up to 90% of its pre-pandemic capacity by autumn and will reopen a terminal as demand picks up.
"We're anticipating a huge surge in inbound and outbound demand over the next few months," Dubai Airports Chief Executive Officer Paul Griffiths said in an interview with Bloomberg TV on Sunday.
Air travel will get a boost as countries start to remove restrictions, while an upcoming holiday in the Middle East and Expo 2020 Dubai -- which begins in October -- will also help shore up demand, he said. The airport plans to reopen a terminal and concourse that were shut in March 2020, and will add 3,500 jobs to meet growing demand.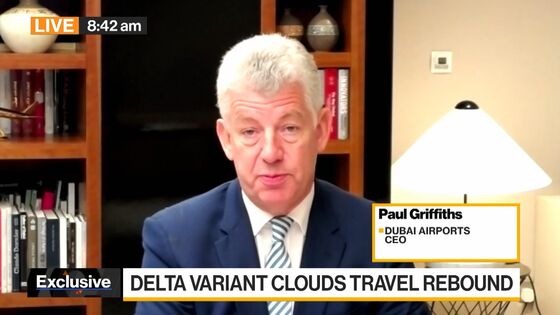 Tourism is key to the emirate's economy and Dubai International Airport, the Middle East's trade and travel hub, relies heavily on connecting passengers around the globe.
The sheikhdom's flagship carrier, Emirates, is also ramping up operations to accommodate demand over the summer. The carrier will have recovered about 90% of its pre-pandemic network by the end of July, it said earlier.
Griffiths, however, doesn't expect the Gulf nation to be removed from the United Kingdom's red list before end of June or July. Britain is one of Dubai's most important markets and "we're anxiously" negotiating with the U.K. government, he said.
Meanwhile, Dubai has started easing restrictions on some incoming passengers from India, Nigeria and South Africa.