Dubai Stock Index Posts the Biggest Monthly Increase in a Year
(Bloomberg) -- Dubai's main equity gauge posted its biggest monthly gain in a year, powered by a revival in the banking sector as better-than-estimated earnings help U.A.E. stocks escape this year's doldrums.
The DFM General Index has surged 4.8 percent in July, ending five straight months of losses. In Abu Dhabi, the ADX General Index posted its largest monthly gain in more than two years, advancing 6.6 percent.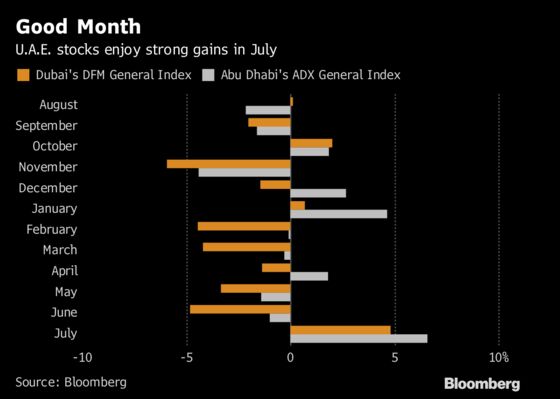 The country's biggest banks led the rally in both markets. Last week, First Abu Dhabi Bank PJSC delivered estimate-beating results for the quarter ended in June and raised its forecasts for the year. Dubai's two biggest lenders, Emirates NBD PJSC and Dubai Islamic Bank PJSC, also reported higher-than-expected results, as a recovery in construction activity helped boost lending.
"The U.A.E. has really been lacking a catalyst -- from a valuations point of view, it's one the most attractive markets," Salman Bajwa, chief executive officer at Emirates NBD Asset Management Ltd, said in an interview with Bloomberg Television. "Banks have been coming out with strong numbers," he said, adding that real estate companies continued to struggle.
Shares in Dubai and Abu Dhabi -- the two richest sheikhdoms in the seven-emirate federation that makes up the U.A.E. -- have been underperforming those from Saudi Arabia and Kuwait this year as investors seek to gain from the inclusion of the two countries in emerging markets benchmarks. Dubai stocks slipped into a bear market in May amid concerns over the outlook for the real-estate industry, one of the pillars of its economy. The DFM General Index is still down 12 percent this year, more than twice the drop in the MSCI Emerging Market Index.
Here are gains in July for the stocks that have contributed the most to the rally in each market:
| Dubai | Abu Dhabi |
| --- | --- |
| Emaar Properties +7.3% | First Abu Dhabi Bank +12% |
| Damac Properties +14% | Emirates Telecommunications +7.4% |
| Emirates NBD +7.8% | Dana Gas +4.8% |
| Dubai Islamic Bank +3.3% | Abu Dhabi National Oil co. For Distribution +4.2% |
| Dubai Investments +6.3% | Abu Dhabi Islamic Bank +1.8% |