Dubai's IPO Plans Are Injecting Fresh Life Into Laggard Market
Dubai's plan to embark on a flurry of public share offerings has stirred the benchmark index from its recent slumbers, narrowing the gap with regional peers. 
The benchmark DFM Index has rallied more than 14% since the emirate announced at the start of November it was earmarking state-owned companies for IPOs. That's almost half its entire gain for the year and compares with a 1.1% rise on Saudi Arabia's Tadawul index and a 4.9% advance for Abu Dhabi's ADX gauge. The DFM rose a further 0.7% on Tuesday.
Dubai said Nov. 2 it's planning to list some 10 state-owned companies on its stock market as it looks to reverse a decline in trade that's left it in the shadows of Abu Dhabi and Riyadh. That ambition got a fresh lift on Monday when the chairman of Emirates, the airline that helped transform the city into a global business and tourism hub, said it may also sell shares to the public.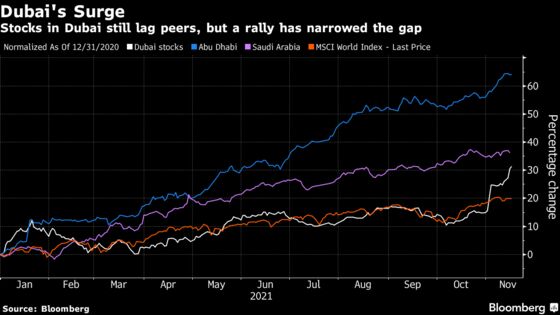 "If Emirates comes with its IPO after reaching the pre-Covid level operating performance, it should attract a lot of international investors to the DFM," said Joice Mathew, the head of equity research at United Securities in Muscat. It "could be a real boost to the market."
Despite November's rally, Dubai's index is still trailing its peers this year. Investor confidence has been hurt by decline in equity trading in three of the past four years, a dearth of initial public offerings since 2017 and a string of delistings. 
To help reverse that, Dubai has announced a raft of initiatives since Nov. 1, including plans to encourage private firms to go public.
That's also led to a surge in shares of Dubai Financial Market PJSC, which operates the emirate's exchange. The stock rose 8% on Tuesday, taking its gain since the start of the month to 172%.