Dubai's Biggest Developer Can't Shake Off Real Estate Woes
(Bloomberg) -- Emaar Properties PJSC may have the backing of analysts but investors aren't buying it, deterred by the gloomy prospects for Dubai's real estate market.
Shares of the developer of the iconic Burj Khalifa skyscraper have lost 39 percent this year, bringing its estimated price-to-earnings ratio for the next 12 months to the lowest level since late 2009. The valuation has prompted six analysts to update their view with either a buy or overweight recommendation. So far to no avail.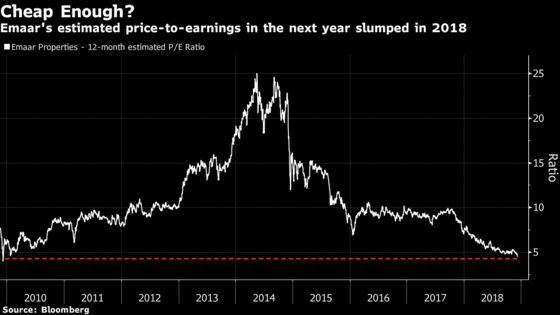 A recovery of the local real-estate market doesn't appear to be happening any time soon with rival developers predicting a difficult year ahead. Demand is faltering as the oversupply has become more evident mostly in the residential market.
READ MORE: Dubai's Nov. Real Estate Sales AED3,752M; -19.4% M/m
Emaar Properties, the biggest listed developer in the United Arab Emirates, posted the lowest quarterly profit in almost three years in the period ended September. Meanwhile, the central bank said this week property prices decreased 7.4 percent in the September quarter from a year earlier.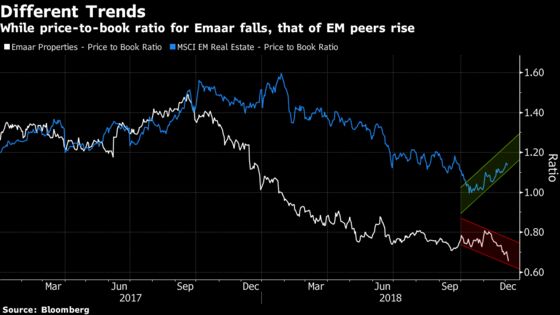 The stock fell 4.3 percent to 4.25 dirhams in Dubai on Thursday. Here's what some analysts with buy ratings said:
Mohamad Haidar and Emad El Hage, Arqaam Capital
Consider Emaar "deepest value play" in the Middle East, North Africa at 0.5 times premium-to-net-asset-value, "but stock remains heavily impacted by weak real estate sentiment in the U.A.E., as well as concerns over cash flow management"
Company seen as likely to deploy the majority of the proceeds from the sale of hotel assets, announced last month, to fund its near-term capital expenditure and working capital gaps, estimated at an aggregate 2.5 billion dirhams ($681 million) for the next three years
"We continue to think that the market is ignoring value in non-listed businesses," including hotel and entertainment assets
Target Price: 8.40 dirhams
Yugesh Suneja and Adbullah Sahli, ADCB Securities
See "strong value in the name"
"At current share price, market is completely ignoring value of U.A.E. development property business and applying 9% cap. rate to Emaar Malls, owing to weak market sentiment"

NOTE: Emaar Malls is a subsidiary of Emaar Properties

Lack of full disclosures on planned capex is "adding to uncertainty. As more disclosures become available on planned capex for different assets, it should bring more clarity on company's growth potential which is not yet factored by the market"
Target Price: 7.30 dirhams