Biggest Dubai Bank More Than Doubles Provisions; Profit Dips
(Bloomberg) -- Emirates NBD PJSC braced for credit losses by more than doubling the amount of money set aside in provisions amid the coronavirus pandemic as it reported a 55% slump in its nine-month profit.
Dubai's biggest bank increased impairment allowances more than anticipated by some analysts, bringing the total to 6.4 billion dirhams ($1.7 billion), according to a statement on Tuesday. Profit dropped to 5.6 billion dirhams on higher impairments and as a gain from last year's sale of a stake in Network International Holdings Plc wasn't repeated.
Built on trade and tourism in a region reliant on oil, Dubai's economy has buckled under the coronavirus pandemic and low crude prices. With job losses and weak domestic demand still a drag on businesses, banks in the Gulf are increasing provisioning in preparation for the possible deterioration in asset quality.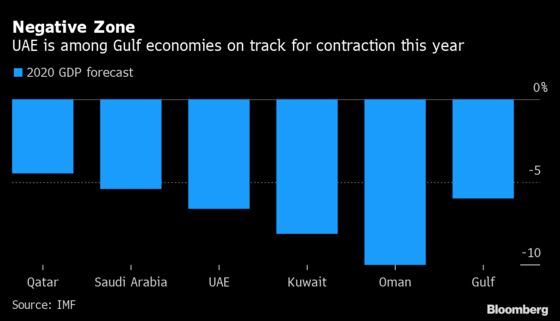 "Loan-loss charges were higher than expected," Jaap Meijer, head of equity research at Arqaam Capital, said in a message. "More deferred loans may need to be impaired."
Emirates NBD shares were down 2.6% as of 1:21 p.m. in Dubai, extending the drop for the year to almost 25%.
Lenders in the six-member Gulf Cooperation Council are entering an age of weaker profits as a result of the outbreak and a decline in crude prices, according to S&P Global Ratings. Profit at the Middle East's biggest lender, Qatar National Bank QPSC, dropped 15% in the first nine months of the year on higher provisions.
While government stimulus efforts and regulatory measures have so far kept bad loans in check, rating companies have warned that the fallout could extend for years.
The average ratio of non-performing loans is forecast to increase to about 5%-6% in the next 12 to 24 months for S&P's sample of regional banks. The share of NPLs to total loans was at 3.7% as of June 30.
Read more: Emirates NBD Profit Drop, Provisions Jump Not a Shock: Analysts
Profit at Emirates NBD also suffered as higher income from the inclusion of DenizBank, a Turkish lender it purchased last year, was more than offset by additional credit impairment provisions for coverage ratios.
Emirates NBD has provided nearly 6.6 billion dirhams of interest and principal deferrals to over 98,500 customers.
Analysts at Citigroup Inc. said the lender reported decent numbers considering the current environment, while reiterating a buy call on the stock.
Emirates NBD nine-month numbers vs year ago:
Profit 5.6 billion dirhams

vs

12.5 billion dirhams
Impairments 6.36 billion dirhams

vs

2.76 billion dirhams
Excluding the gain from Network International, profit fell 30%
Total income 18.28 billion dirhams

vs

15.5 billion
Net interest income 13.4 billion dirhams

vs

11.1 billion
Cost to income ratio 31.8%

vs

30.3%
Net interest margin 2.73%

vs

2.82%
The bank has reduced its operating expenses by 7% in the third quarter, according to its presentation for investors. It said its level of provisions reflects expectations of a potential deterioration in credit quality.
Read more: ENBD Set More Provision to Keep Defense Intact: Earnings Outlook
The lender maintained its guidance for net interest margin, a measure of profitability, at between 2.55% to 2.65%. NIM declined 20 basis points last quarter from the prior period as lower interest rates fed through to the loan book.
"Net interest income declined throughout 2020 due to lower interest rates but non-funded income improved in the third quarter of 2020 as volumes picked-up following the acute disruption in Q2 2020," Group Chief Financial Officer Patrick Sullivan said in the statement.