Dubai to List 10 State Firms in Bid to Reverse Falling Trade
(Bloomberg) -- Dubai plans to offer stakes in 10 state-owned companies in what may prove to be a test of confidence in a stock market dogged by falling volumes at a time when regional rivals are stepping up sales. 
The emirate will sell the shares as part of a move aimed at boosting trading volumes on the city's financial markets to 3 trillion dirhams ($817 billion), the Dubai media office said in a tweet late Monday without elaborating. It didn't name the companies or provide a timeline for the offerings.
The Dubai Financial Market has suffered a slide in trading, with volumes falling in three of the past four years, as a string of companies delisted at a time of declining liquidity and stock prices, while the Covid-19 pandemic has hurt the city's lifeblood tourism and real estate industries. Meantime, new listings in other Middle East financial hubs such as Abu Dhabi and Riyadh are attracting a flood of cash.
"More government listings might help DFM trading volumes pick up, similar to Abu Dhabi, but the question remains why more private sector corporates do not see the DFM as a useful avenue to raise finance," said Hasnain Malik, the Dubai-based head of research at Tellimer Research. "The main drivers of Dubai stocks remain the recovery in tourism and deregulation of long-term residency."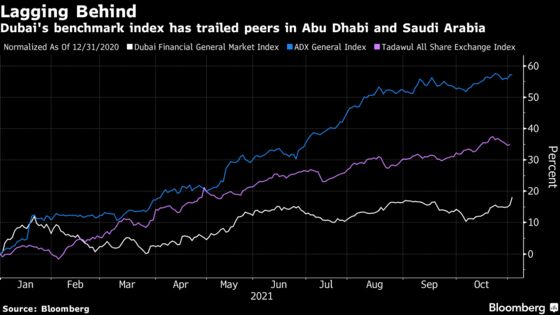 The benchmark DFM index rose as much as 4.5% on Tuesday, while bourse operator Dubai Financial Market PJSC jumped more than 14%.
Monday's announcement followed Deputy Ruler Maktoum bin Mohammed bin Rashid's first meeting as head of the securities and exchange higher committee, according to the media office. He also approved a 2 billion-dirham market-making fund to increase liquidity and a 1 billion-dirham fund to support initial public offerings by tech firms, it said.
Though the announcement didn't specify which state firms may be listed, officials at companies such as Dubai Electricity & Water Authority and Emirates Airline have said in the past that any decisions about IPOs rest with the government.
Dubai has staged just one IPO since 2017, and its only prospect of a listing this year fell through when logistics firm Tristar Transport pulled its offering in April. At the same time, flagship names such as port operator DP World have delisted while others like Emaar Malls and Damac Properties are in the process of doing so.
Elsewhere across the region, demand for new stocks has soared. Investors placed more than $34 billion of orders for Adnoc Drilling's $1.1 billion IPO in Abu Dhabi, while Arabian Internet and Communications Services Co. attracted 471 billion riyals ($126 billion) in bids for its $966 million offering last month in Riyadh.
As real estate prices have started to recover, Dubai's benchmark gauge has eked out gains, but it still trails behind peers in Abu Dhabi and Saudi Arabia.
The DFM index's market capitalization stood around $84.6 billion by Monday's close, according to data compiled by Bloomberg. An average of 139 million shares were traded daily in the past 12 months and the most active stocks include banks and real estate.
"It's quite an ambitious target, but it's definitely a move in the right direction, and any new listings would be welcomed by the market," said Salah Shamma, Franklin Templeton's Dubai-based head of equity investment for the Middle East and North Africa. "There is enough investor appetite and liquidity."