Next Door to One of World's Top Stock Gauges Is One of the Worst
(Bloomberg) -- The fates of the main stock gauges at the United Arab Emirates biggest exchanges -- a mere 90 miles apart -- are set to diverge this year for the first time on record.
Abu Dhabi's ADX General Index has climbed almost 13 percent this year, putting it among the world's best performers. Headed in the opposite direction, Dubai's main gauge has slumped 20 percent and is set for its worst annual performance in a decade.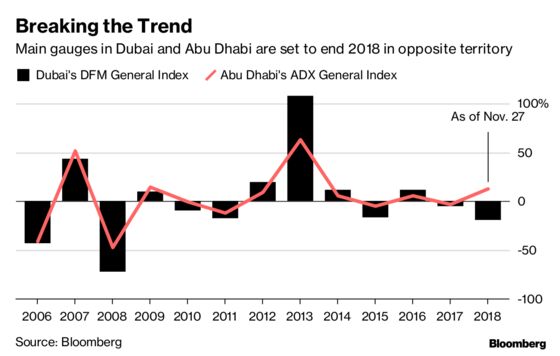 The performance in the U.A.E. capital was boosted mostly by a 40 percent increase of First Abu Dhabi Bank PJSC. The country's biggest lender obtained a higher weighting in the benchmark MSCI Emerging Markets Index earlier this month, with estimated passive inflows of around $400 million. In Dubai, real estate stocks slumped, pressuring the index the most, amid growing concern of an oversupply in the residential market.