Drax to Buy U.K. Plants From Iberdrola in Shift From Coal
(Bloomberg) -- Drax Group Plc agreed to buy some of Iberdrola SA's power plants for 702 million pounds ($927 million), boosting its clean energy assets in a further shift away from burning coal.
The acquisition involves pumped storage, renewable hydro and gas-fired power assets and will increase the utility's generation capacity by more than 60 percent to about 6.6 gigawatts, Chief Executive officer Will Gardiner said by phone on Tuesday. Once the deal is completed it will also help to boost the company's already growing dividend by a further 8 percent, or a similar rate, he said.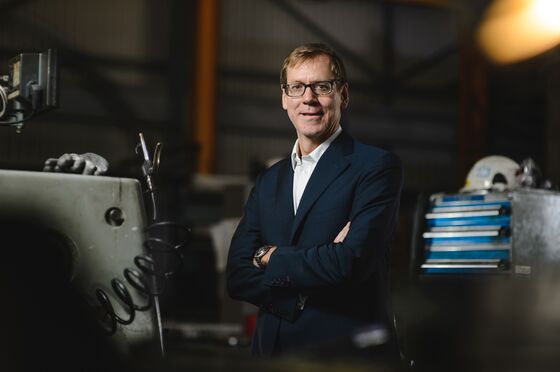 Drax has already rebuilt its facility in North Yorkshire, England, to fuel four of its six coal units with biomass. While coal is still the world's most widely used power plant fuel, governments and utilities in western Europe are giving it the cold shoulder. Britain will cease to generate power from coal by the middle of the next decade. The power plant has been a mainstay of U.K. power generation since 1974.
"The pumped hydro is really what we're excited about most and it's these green assets where most of the value is," Gardiner said in an interview. "It's an attractive combined portfolio."
The plants are expected to generate earnings before interest, taxes, depreciation and amortization of 90 million to 110 million pounds next year, from gross profits of 155 million to 175 million pounds, according to a company statement.
Assuming good availability and smooth running of its power plants, Drax's Ebitda expectations for the rest of the year remain unchanged, it said.
Drax will acquire the operation teams that run the hydro assets from Iberdrola but it's own traders will set the strategy leveraging their experience of working with network operator National Grid Plc in balancing the electricity system, Gardiner said.
The company is also planning to convert its remaining two coal units to a 3.6-gigawatt natural gas plant. The facility would be the biggest of its kind in Britain and its completion isn't impacted by the acquisition of Iberdrola's units, a spokeswoman said. The company could be off coal completely as early as 2023 subject to all relevant planning approvals and a winning a capacity auction contract, she said.
Drax has entered into a fully underwritten 725 million-pound bridge facility to finance the transaction.
Drax shares advanced 5.7 percent to 387 pence at 1:21 p.m. in London. They're up 43 percent this year, helped by a rally in electricity prices across Europe.
Iberdrola said that the sale is part of its asset rotation plan announced earlier.
Some of the plants included in the Iberdrola deal:
1,940 megawatts of CCGTs at Damhead Creek, Rye House and Shoreham
440-megawatt Cruachan pumped storage hydro
126-megawatt Galloway and Lanark run-of-river hydro