Draper Esprit Enters JV With German VC, Takes Stake in Fund
(Bloomberg) -- Draper Esprit Plc and Germany's Earlybird Venture Capital have begun a joint venture to hunt for new deals, with Draper also investing in Earlybird's latest fund.
London-based Draper Esprit said it will take a 16 million-pound ($21 million) stake in Earlybird's new Digital West Early Stage Fund VI, and will invest 15 million pounds a year until 2022, according to a statement Wednesday.
The deal gives Draper more exposure to European startups. While major U.K. tech investors have continued to support overseas startups, the European Investment Fund, a key source of capital from the European Union, cut back its investment in U.K. funds following the U.K.'s decision to leave the EU.
Shares in Draper Esprit rose 4 percent in London trading Wednesday, and are up 27 percent so far this year. The listed investor currently has a market value just shy of 500 million pounds.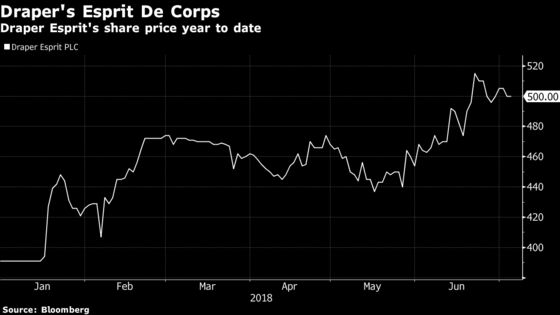 Draper will acquire an indirect stake in Earlybird-backed startups including cryptocurrency exchange Shapeshift and French truck-delivery marketplace Everoad. The new venture is expected to invest in around 15 to 20 deals a year,
Draper last October also acquired two funds from early-stage investor Seedcamp for 18 million pounds, picking up a minority stake in U.K. fintech firm TransferWise.