European Banks Are Set to Report on a Tumultuous Quarter
(Bloomberg) -- Investors in Europe's perennially underperforming banks are no strangers to disappointing earnings, but the third quarter brought an unusually large array of scandals and market turmoil that could test their conviction.
The meltdown of the Turkish lira, the standoff over Italy's budget, a massive money laundering scandal in Denmark and geopolitical tension chilling trade are only a few of the events that hammered banks. It meant lackluster securities trading for the biggest investment banks, adding to another challenging quarter.
Here are some themes to look out for.
Deutsche Bank AG, Germany's largest lender, will kick off the earnings season on Wednesday, along with Barclays Plc, giving a first glimpse how Europe's investment banks stacked up against their U.S. peers. Analysts are predicting a tough quarter and expect Deutsche Bank, Credit Suisse Group AG and BNP Paribas SA to report year-on-year declines. UBS Group AG, Barclays and Societe Generale SA may gain.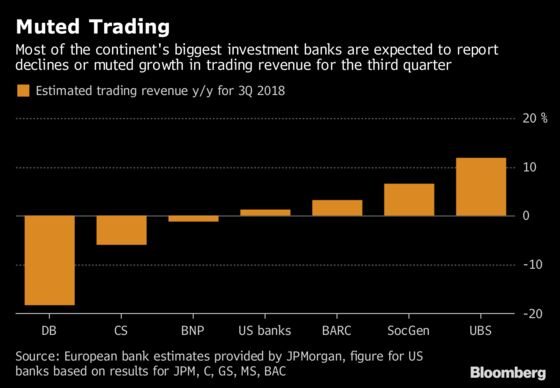 Europe's banks will probably follow their U.S. rivals in posting slumps from fixed-income trading. Goldman Sachs Group Inc., which reported a 10 percent decline, partly blamed "low volatility and lower activity ... particularly in Europe" at its rates business -- an ominous sign -- and also cited a decline in credit trading. Some analysts expect double-digit declines at Credit Suisse, Deutsche Bank and BNP and smaller drops at Barclays, UBS and SocGen.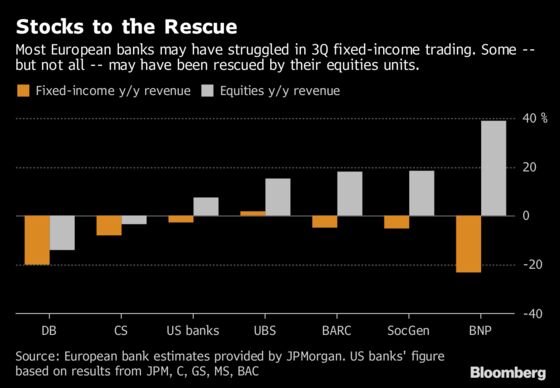 Stock trading may offset some of that pain, as the volatility that traders crave climbed from a year earlier, helping the biggest U.S. banks' equities businesses boost revenue. Analysts expect some Europeans to gain as well. JPMorgan Chase & Co.'s Kian Abouhossein has predicted double-digit increases from the stocks units at UBS, BNP, SocGen and Barclays. Deutsche Bank and Credit Suisse, both of which have struggled to improve performance from their equities divisions, may report declines, he estimates.
Some of the volatility during the quarter occurred in August, when Turkish assets plunged amid a geopolitical standoff with the U.S. A team of Deutsche Bank traders gained about $35 million in a few days, Bloomberg reported. On the losing side was a Barclays emerging-markets credit trader, who lost 15 million pounds.
While that volatility may help some traders, the turmoil in Turkey has another, more serious side for Europe's banks. Much of the borrowing done by companies in Turkey has been in euros or dollars. As the lira declines against those currencies, borrowers in the country find it more difficult to service their debts, leaving banks on the hook. Among European firms most exposed to that risk is UniCredit SpA, the joint-controlling shareholder in local lender Yapi ve Kredit Bankasi AS.
UniCredit, Italy's largest bank, also has problems closer to home, because like all Italian banks, it owns a lot of the country's government debt. Normally a safe investment, Italian bonds slumped in the third quarter, with the 10-year yield spread over Germany rising to the highest in more than five years last week, because the populist government in Rome wants to borrow more than European Union rules allow.
External shocks like the lira, the Italian bond selloff or the escalating trade war between the U.S. and China also tend to undermine client appetite for risk, particularly in wealth management, which banks such as UBS and Credit Suisse have prioritized since the financial crisis. Asia is a key wealth management market for both banks, so if clients there trade less and take less risk, it affects the Swiss banks' bottom line.
Credit Suisse CEO Tidjane Thiam flagged earlier this month how trade tensions are making high-net-worth clients uneasy while his counterpart at UBS, Sergio Ermotti, said in September that transaction revenues -- income generated when clients buy and sell assets -- have declined by as much as 11 percent.
UBS will also update investors on strategy at its first investor day in four years on Oct. 25. A pioneer and dominant player in wealth management, the bank has faced questions how it can sustain its lead as rivals follow in its footsteps. One question that's sure to be on shareholders' minds: what UBS plans for its investment bank after the departure of its hard-charging chief Andrea Orcel, who left to become CEO of Banco Santander SA.
Legacy issue still haunt some banks. Danske Bank A/S last month disclosed that a "large" part of some $234 billion that flowed through an Estonian subsidiary may be of suspicious origin, prompting the resignation of CEO Thomas Borgen. ING agreed to pay 775 million euros to settle a Dutch probe tied partly to illicit Uzbek payments, triggering the exit of CFO Koos Timmermans.
Finally, a long-running German probe into a widely used tax-dodge scheme has begun to spread to some of the region's largest banks. Santander, the biggest Spanish bank that reports earnings Oct. 31, confirmed this month that it is under investigation, joining a list that among the Europeans includes Barclays and BNP Paribas. Expect plenty of questions from analysts about this.