Draghi Insists Euro-Area Fiscal Pact Must Change After Pandemic
Italian premier Mario Draghi insisted euro-area fiscal rules can't return to how they were before the pandemic, throwing down a gauntlet to Germany over the future shape of Europe's post-crisis budget regime.
"I have been saying for three years that things need to be changed," the prime minister said in parliament in Rome on Wednesday. "The discussion is just beginning."
The Way We Were
Elements of European Union Stability & Growth Pact before the crisis
Deficits should be aimed to stay within limit of 3% of GDP
Public debt should be aimed to stay under 60% of GDP
EU Commission, finance ministers monitor progress
Draghi's comments give a foretaste of the economic disagreements to come as crisis solidarity gives way to an argument between the euro region's biggest countries over what fiscal framework should govern the currency area after the pandemic. The budget rules, with limits on debt and deficits, were suspended to allow for emergency spending.
The premier's confidence of future adjustment directly contradicts Armin Laschet, the front-runner to succeed Angela Merkel as German chancellor, who said last week that stability policies will have to be reinstated when the effects of the pandemic on the global economy are over.
Draghi already called for reform of the rules, which normally limit budget deficits to 3% of economic output, when he was formerly European Central Bank president. He now sees the debate lasting the whole of next year with a shared proposal emerging only in 2023.
"There is no danger that the EU stability and growth pact will be reinstated again in the same format as before," he said on Wednesday.
The debate is likely to expose familiar fault lines in the euro area, with Germany and other northern countries calling for balanced budgets while the region's south, including Italy, say that spending will fuel faster growth which can in turn reduce debt burdens.
Draghi has experience of challenging and outmaneuvering German economic policy making, having driven through a crisis-fighting tool and quantitative easing while at the helm of the ECB in defiance of the Bundesbank's vehement opposition.
Adding to the complexity of the current debate is the possibility of making permanent at least part of the 800-billion-euro ($956 billion) spending facility deployed by the EU to fund reconstruction.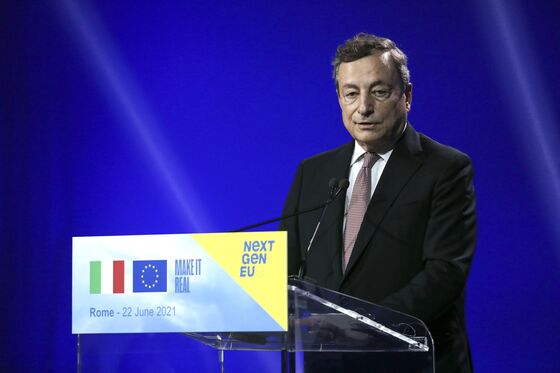 "I am confident that some of the efforts undertaken by EU member states and the EU Commission will become structural," the premier said on Tuesday after the approval of Italy's 191 billion euro chunk of the fund. "This is a big responsibility that we have."
The ECB has also called for an update of euro-area fiscal rules, building on Draghi's successive ad-hoc efforts to shore up the single currency and counter the ineffectiveness of the bloc's budget framework. His successor expanded that action when the Covid-19 crisis hit.
"Since the start of EMU the macroeconomic context has changed substantially," current ECB president Christine Lagarde told European lawmakers on Monday. "Europe needs a modernized framework with transparent, flexible, and credible fiscal rules that will enable counter-cyclical and sustainable fiscal policies. I hope that the review that is ongoing at the moment will deliver a solution that meets those demands."