Draghi Taps Ally Scannapieco to Run Italy's State Bank
(Bloomberg) -- Prime Minister Mario Draghi named Dario Scannapieco to run state-backed lender Cassa Depositi e Prestiti SpA, putting a long-time ally into one of Italy's highest-profile corporate posts and paving the way for a significant policy shift at the bank.
Scannapieco, 53, is a European Investment Bank vice president and will take over the top job at Cassa Depositi, also known as CDP, from outgoing Chief Executive Officer Fabrizio Palermo, according to a statement by the Treasury. Giovanni Gorno Tempini will remain as CDP's chairman.
With 512 billion euros ($625 billion) in assets, Cassa Depositi, controlled by the Treasury, is bigger than most of Italy's banks and has significant stakes in many of the country's largest companies. The lender is also set to play a key role in the plan to channel billions of euros in European Union funds into Italy's economy.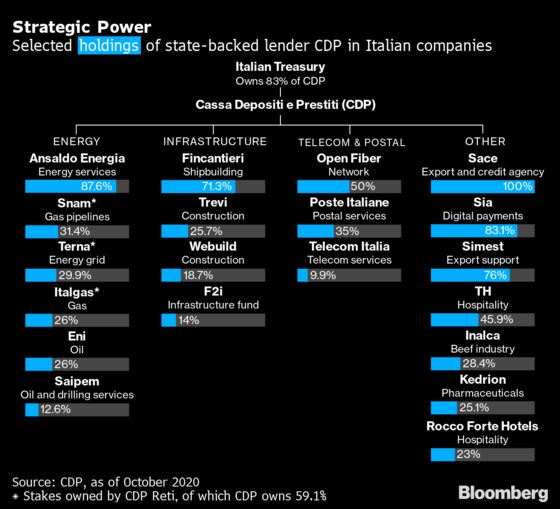 Under Palermo, the Treasury-controlled lender has widened its role in Italian corporate policy, becoming more directly involved in strategic sectors including telecommunications, transportation and exchange management.
Among key recent deals, Cassa Depositi has raised its stake in Telecom Italia SpA, engineered the sale of stock-exchange manager Borsa Italiana, and become the largest shareholder in digital payments giant Nexi SpA. It is now working to finalize the acquisition of highway manager Autostrade from the Benetton family's Atlantia SpA.
Scannapieco's career made him an obvious pick, as he and Draghi worked together in the 1990s on the privatization of Italian state assets. The choice also points to the prime minister's intention to shape the country's corporate strategy beyond his government's term. While Draghi heads an unelected emergency government, Scannapieco's mandate will last three years.
In making the pick, Draghi resisted pressure from some partners in his coalition who wanted Palermo to get a second term. Palermo, 50, was named to the post by Draghi's predecessor Giuseppe Conte.