Draghi Sees Euro-Area Growth Lasting Despite Trade Risks
(Bloomberg) -- Mario Draghi expects the euro area to continue growing in coming years even amid risks from protectionism that need to be monitored "very carefully."
The European Central Bank president's remarks in Frankfurt come after the region's expansion slowed to 0.2 percent in the third quarter, the weakest pace in more than four years. The ECB will decide at its final policy meeting of the year on Dec. 13 whether to end its bond-buying program as planned, a key step toward slowly normalizing policy.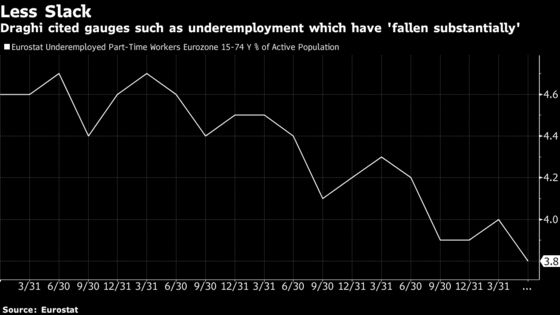 Draghi confirmed that the recent slowdown is mostly due to temporary factors, such as new emissions-testing procedures that slowed car production in Germany and trade growth stabilizing at a lower, but still solid, pace.
As a consequence, his assessment was that risks to the economy are still "broadly balanced" -- a code word that the ECB uses to signal it sees no significant deterioration in its outlook for now. Employment and consumption remains strong, and interest rates on loans remain low thanks to continued support from the central bank.
Underlying inflation still lacks a "convincing upward trend" but Draghi said he's confident that wages will eventually feed into higher prices. He reaffirmed his expectation that the ECB -- "subject to incoming data" -- will end new bond buying in December.
Protectionism could also have a more lasting impact, by dampening exports and hurting confidence. Draghi said trade risks will be monitored "very carefully" in coming months.
Another risk comes from the spending policies of countries with large debt burdens. Without naming his native Italy, which is embroiled in a budget standoff with the European Union, he said "high-debt countries should not increase their debt even further and all countries should respect the rules of the Union."
What Our Economists Say...
"We expect core inflation to be largely steady for much of the next year before showing signs of vigor toward the end of 2019."

-- David Powell and Marco Babic, Bloomberg Economics. See their EURO-AREA REACT
Draghi dropped a paragraph that was included in the published text of his speech, which said that "if firms start to become more uncertain about the growth and inflation outlook, the squeeze on margins could prove more persistent. This would affect the speed with which underlying inflation picks up and therefore the inflation path that we expect to see in the quarters ahead"
ECB chief economist Peter Praet said on Thursday that the recent drop in oil prices is a "positive development for Europe" as it's a "relief" for consumers
Later at the same conference, Bundesbank President Jens Weidmann urged the ECB to move back to the old normal of a lean balance sheet, keeping unconventional tools for extraordinary situations