Draghi Plans to Overhaul Italy's Slow Vaccination With Army Help
(Bloomberg) -- Prime Minister Mario Draghi is working on an overhaul of Italy's slow and uneven vaccination campaign, focusing on logistics and recruiting the military to help, as new variants accelerate the spread of the coronavirus pandemic.
The former head of the European Central Bank has signaled a strong break with the past by replacing two key officials who were in charge of countering the virus, and he wants to streamline and standardize inoculation procedures across the country, according to officials who asked not to be named discussing confidential preparations.
As his government draws up new plans, Draghi is prioritizing the use of civil-protection volunteers and the armed forces, and he wants officials to consider following the U.K.'s lead in focusing on an initial single shot rather than holding back supplies for second shots, the officials said.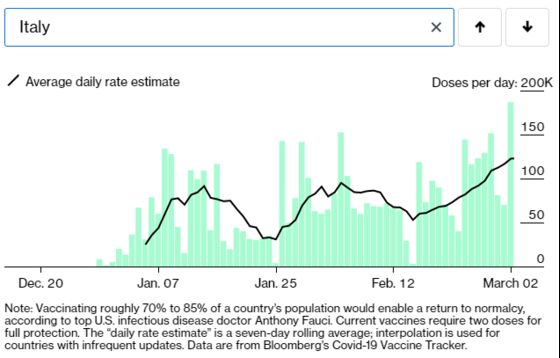 The premier is banking on an improved vaccination campaign to help kick-start an economy which shrunk almost 9% in 2020, crippled by the pandemic and both regional and nationwide lockdowns. The U.K. strain of Covid-19 is now dominant in the country and cases are rising again, touching a 2 month-high on Wednesday.
Italy has been behind the curve on vaccinations compared with countries like the U.K. and Israel, with officials blaming delivery delays by the main vaccine providers and poor coordination at regional level. Italy has so far administered about 4.6 million vaccine doses, with less than 1.5 million people receiving two shots.
The government is also evaluating the possibility to start vaccine production in the country this year, Economic Development minister Giancarlo Giorgetti told lawmakers on Wednesday.
Only about 70% of doses distributed have been used so far in the country, with regions like Calabria in the depressed south below the threshold of 60%, and Lombardy and Veneto in the north below 67%.
Just half of Italy's 20 regions, which have extensive control over health policy, have to date reached deals for family doctors to take part in vaccinations. Involving the country's 35,000 family physicians could allow each of them to carry out 20 inoculations a day, ensuring a daily total of 700,000 shots, a health ministry official said.
One plan under consideration calls for the military to convert its drive-through testing sites into rapid-inoculation stations, a defense ministry official said. Daily la Repubblica reported on the drive-through plan earlier Wednesday.
In tapping General Francesco Paolo Figliuolo to take over in coordinating the government's action on the pandemic, Draghi chose a military figure with extensive experience in logistics dating back to service in Afghanistan and Kosovo, according to an official.
Draghi also named Fabrizio Curcio as the new head of civil protection. Curcio led the agency in the past when he tackled disasters including the 2009 earthquake in the central Abruzzo region.
Still, Italy's efforts hinge mostly on supplies from vaccine-makers, with regions so far deciding to stockpile a large share of deliveries to avoid shortages for second shots, the officials said, adding that if deliveries respect commitments, the country could see a strong pick-up in its campaign as early as April.