Draghi Set for Summer Break With Sun Shining on Euro Economy
(Bloomberg) -- Mario Draghi can probably breathe a sigh of relief and enjoy his summer vacation.
High levels of business and consumer confidence, expanding credit, falling unemployment and improving inflation back the European Central Bank president's view that the euro area's domestic economic fundamentals are solid. With a U.S.-European Union trade war now looking less likely, his plans for a gradual exit from ultra-loose policy are firmly on track.
Risks from an emerging-market crisis to Italian politics -- or a late-night tweet by U.S. President Donald Trump -- could still unsettle the region, but the ECB chief was comfortable with the Governing Council's decision to continue on the path to ending extraordinary stimulus.
"Draghi seems at ease with the trade-war implications, and was also upbeat about negotiated wages and domestic price-pressure dynamics," said Piet Christiansen, an economist at Danske Bank. "The problem is we have one guy who is very volatile, and if he changes his mind things could completely reverse. It's too soon to say."
What Our Economists Say
"Our core scenario remains for the first rate hike to occur in September 2019. That should be a mini increase of just 15 basis points to the deposit rate to restore normality to the ECB's interest rate corridor. The next increase is likely to be a full 25 bps to all three of its main policy rates."
--David Powell and Jamie Murray, Bloomberg Economics. See their EURO-AREA REACT
Trade tensions between the EU and U.S. were escalating at the start of the week, with Trump tweeting that "tariffs are the greatest" before he and European Commission President Jean-Claude Juncker agreed to work toward a deal to remove barriers.
Draghi, speaking after Thursday's Governing Council meeting, has repeatedly warned that protectionist threats can damage economic confidence. Recent data shows that the euro area has proved relatively resilient to such inward-looking rhetoric though.
Banks stepped up lending to non-financial companies at the fastest pace in 9 years in June and credit standards are being eased.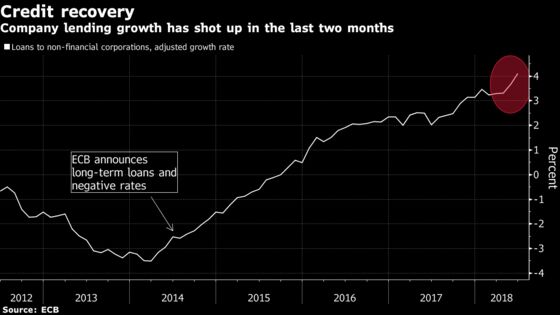 Consumer confidence is well above its long-term average. And while private-sector activity has slowed somewhat, business sentiment in export-oriented Germany barely dipped this month despite the recurrent trade noise.
Unemployment is the lowest in more than nine years and falling, and employment is at a record. Some countries are reporting labor shortages and rising worker pay, and Germany recently raised the minimum wage by 4 percent from 2019, part of a broader trend of higher salaries in the country.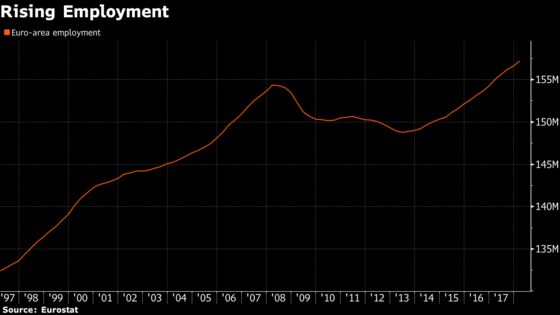 Economic growth is predicted by economists to have accelerated in the second quarter to 0.5 percent from 0.4 percent. That report is due Tuesday, along with July inflation and June joblessness.
There's always room for downside surprises -- data Friday showed France's economy unexpectedly failed to accelerate last quarter, holding at 0.2 percent -- and Draghi insisted that it's too soon to declare victory on inflation.
Euro-zone consumer prices rose an annual 2 percent in June, slightly in excess of the ECB's goal, but that was largely due to higher oil prices. Core inflation -- which strips out volatile elements like energy and food -- is running at about half that rate. Still, investors appear confident that pressures are at least stabilizing.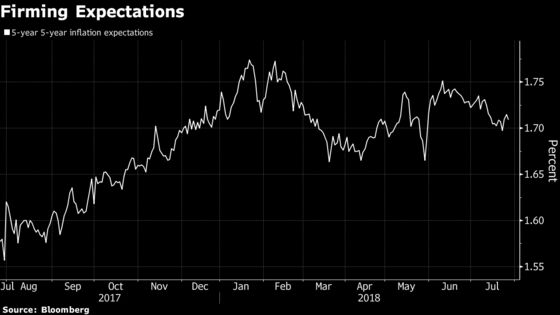 "The ECB sailed smoothly into the summer break," Florian Hense, an economist at Berenberg, wrote in a client note. Trump's meeting with Juncker and "the somewhat lower risk of a U.S.-EU trade war vindicate the ECB's calm policy approach to the noise so far."