DraftKings to Acquire Golden Nugget Online for $1.56 Billion
(Bloomberg) -- DraftKings Inc. agreed to buy Golden Nugget Online Gaming Inc. in a deal valued at about $1.56 billion, expanding the fantasy-sports giant's presence in the hot market for online betting.
DraftKings expects use the combined resources to boost sales and market share, yielding $300 million in savings from overlapping costs and creating new cross-selling opportunities, the companies said Monday in a statement. The deal, which has been approved by both companies' boards, is expected to close in the first quarter of 2022.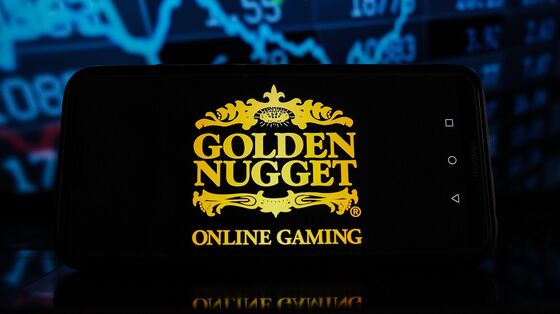 The merger gives DraftKings more casino-type betting customers, in addition to expanding its market share in sports wagering, which is gaining traction in the U.S. as more states legalize the business. Last week, DraftKings raised its revenue forecast for the year, citing strong demand.
Golden Nugget is backed by billionaire Tilman Fertitta, who took the company public through a blank-check transaction last year. Fertitta said he expects more consolidation in the online betting industry and that he picked DraftKings to merge with because he expects it to be a long-term winner.
"DraftKings is definitely best in class," he said in an interview Monday on Bloomberg TV. "They're a tech company. We're a bricks and sticks company."
Shares of Golden Nugget jumped as much as 52% to $18.71 in New York. DraftKings rose almost 2% before retreating.
What Bloomberg Intelligence says:

"DraftKings is poised to hold top share of the fast-growing $5 billion North America online sports-bet and icasino industry, which it projects to reach $30 billion."

-- Brian Egger, gaming and lodging analyst.

Click here to read research.
DraftKings will enter into a commercial agreement with Fertitta Entertainment Inc., the parent company of the Golden Nugget casinos and Landry's restaurants, that will allow the online betting giant to market its products to Fertitta's patrons in its physical locations and through its customer loyalty program.
The deal includes promotions with the Houston Rockets basketball team, which Fertitta also owns, and possibly a sportsbook at the Toyota Center arena in Houston, should such wagers become legal in Texas.
Part of the cost savings comes from shifting Golden Nugget's business, which relies on third-party providers, to DraftKings' in-house technology.
DraftKings will reorganize its holding company and Golden Nugget Online Gaming shareholders will receive 0.365 share of DraftKings for each of their own. Fertitta, who owns a 46% stake in Golden Nugget Online Gaming, agreed to continue to hold DraftKings shares that will be issued to him in the merger for at least one year.
"There's a reason I wanted it to be an all-stock deal," Fertitta said in the interview, adding: "This is going to be a huge part of the American economy, online sports betting and gaming, in the years to come."