Dozens Dead in Niger Attack Mark Latest Upsurge in Violence
A raid by suspected Islamist militants on an army camp in southwest Niger left at least 88 people dead, the latest in a growing number of attacks in the oil-producing nation.
At least 25 soldiers died and six others were wounded in the attack at Chinagodrar near the Malian border, the defense ministry said in a statement Thursday. A further 63 assailants were killed, it said.
The assault took place less than a month after 71 soldiers were killed in a similar raid on an army camp in Inates, less than 200 kilometers (124 miles) northeast of the capital Niamey, in the deadliest attack on Niger's army.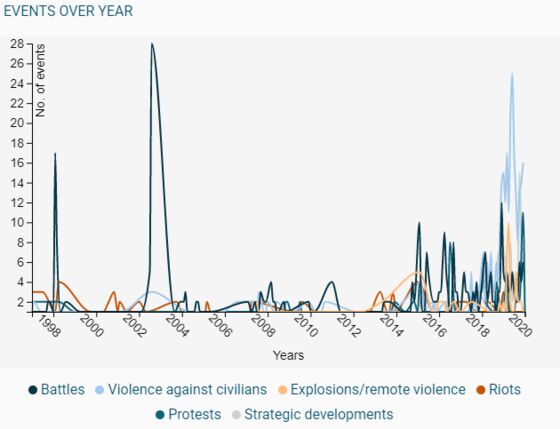 Militant violence has engulfed the Sahel, a region on the southern fringe of the Sahara, since the ousting of Libyan leader Moammar Qaddafi in 2011 and an Islamist occupation of northern Mali in 2012. Niger had largely been spared from the violence until it saw an increase in unrest near the border with Mali.
Thursday's attack comes ahead of a meeting between West African leaders including Nigerien President Mahamadou Issoufou and French President Emmanuel Macron in Pau in southern France Jan. 13.
Macron said last month he had asked the leaders of Mali, Niger, Chad, Mauritania and Burkina Faso to "clarify and formalize" their demands regarding France and the international community's presence. France, the former colonial power, has the largest foreign military presence with 4,500 troops in the Sahel as part of a counter-terrorism force.